The Probiotic Maker is a device that can convert milk to probiotic yogurt faster than most yogurt-making machines. It does this using live probiotic cultures, mixing them with milk and then heating the mixture till the milk converts to yogurt.
The yogurt made from this culture is rich in probiotics, which are good for gut health and can have a more positive impact than supplements. It also makes a cool environment for the yogurt instead of the hot type used by most yogurt makers. It takes 8 hours overnight to get the yogurt ready and only a minute to get the mixture ready.
The mix uses 11 types of probiotics that are normally found in kefirs. The product is easy to clean with a damp cloth and is also FDA-compliant.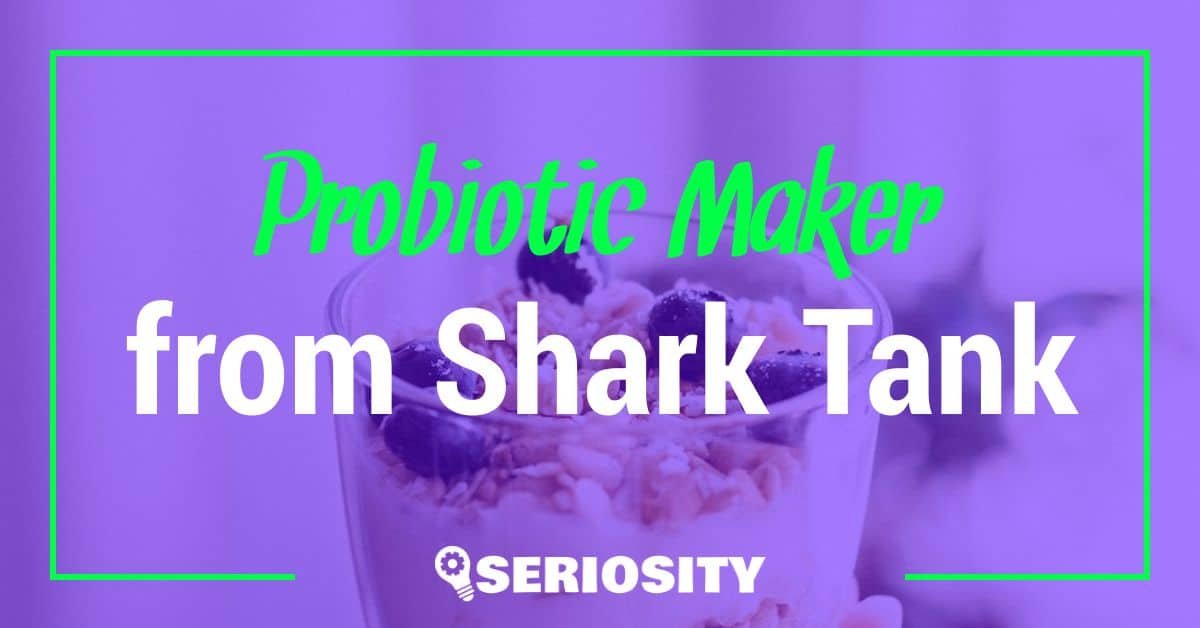 It's a better alternative to most yogurt makers and probiotic supplements. It's flexible enough to use with other milk alternatives like soy or oat milk, but the company recommends the use of full-fat milk because it contains more probiotics. The device was invented by Merrick Maxfield, who wanted a faster yogurt maker instead of the machines sold on the market, particularly because his family loved eating yogurt. Since the yogurt's made directly in the jar or container, it makes the process less messy because there won't be any dirty dishes then.
The device works like a heating pad that can heat up any container with milk in it for 8-9 hours. The mixture is then refrigerated until the yogurt is ready.
Are They Still an Active Company?
Yes, they are active and still in business.
How Did the Shark Tank Pitch Go?
Merrick Maxfield came to Shark Tank seeking an investment of $150,000 for a 7% share in the company. He started his pitch by sharing the concept behind the product, which was to ensure that there was enough fresh yogurt for his family daily and that he wanted a convenient and safe device. He added that the company also offered culture refills at a very low cost after a customer had already bought the maker through a subscription service.
He shared that it translated to an almost $2.1 million estimate and then handed out samples to the Sharks. The Sharks liked the product itself since the yogurt tasted fine but were concerned about the safety of using live probiotic culture and the problematic sales so far. Until he came to Shark Tank, Maxfield's company's sales had been steadily decreasing.
The Sharks didn't think that Maxfield had educated himself enough on the market itself, and it was already a competitive field. That's why they decided not to invest in the product. Overall, the Probiotic Maker Shark Tank review was negative, and they left without a deal.
Even without a Shark Tank investment, the company continued to do business and is still active today. The episode got some much-needed attention to the product, and he made almost half a million through selling 5000 units.
Our Review of Probiotic Maker
We decided to try out the Probiotic Maker for ourselves to see how it would fare in practice.
The product is quite affordable as compared to other yogurt-making machines. The heating pad is easy-to-use and safe for anyone to wrap around any milk container for a period of time. It's also healthy because it doesn't contain any preservatives or food coloring in it. It can make up to 32 cups of yogurt meaning that the quantity is enough for a day's use.
The bad news is that the shelf time probably won't be as long as readymade yogurt. It still takes a significant amount of time to make the yogurt with this culture and there are no flavor base options unlike the ones other alternatives offer.
Pros and Cons of Probiotic Maker
Pros of Probiotic Maker
Affordable
Easy-to-use
Safe
Healthy and full of probiotics
Makes a day's quantity of yogurt
Cons of Probiotic Maker
Slow as compared to electric makers
Short shelf life
No flavor base options
Who Is Probiotic Maker for?
The Probiotic Maker is mainly targeted at people who love yogurt and want a healthy probiotic-rich alternative to yogurt-making machines.
Are There Any Alternatives?
There are many different types of homemade yogurt-making kits on the market.
EasiYo Yogurt Starter Kit is one good alternative to the Probiotic Maker. It's a simple, easy-to-use flavored yogurt kit with a jar, temperature strip, and a flavor pack base. It utilizes yogurt culture to make fresh yogurt free from gluten and preservatives. All it requires is water, and you have to wait 12 hours for the yogurt to be ready.
In many ways, it's similar to the Probiotic Maker, only that it has more variations in flavor like Vanilla, Cheery, Passion Fruit, Manuka Honey and Strawberry Flavored bases.
Our Final Thoughts
The Probiotic Maker is a healthy alternative to yogurt-making machines since it is rich in probiotics and the perfect option for those who take probiotic supplements. Unlike most yogurt-making techniques, the cool-down technique preserves more healthy ingredients. It also makes yogurt faster than other live cultures alternatives.
However, some people might have reservations about using live probiotic culture to make yogurt, especially since it might not be safe to use. The product is easy-to-use but doesn't have any flavor base options, unlike other live culture yogurt makers. Since bending or folding the product might damage it, the material isn't sturdy enough to last a long time and might get ruined easily.
Buying ready-made yogurt is expensive and full of preservatives.  Buying probiotics separately is costly. This product combines health and flavor with low-cost. People who don't have the time to set up the product to heat the milk overnight might prefer faster electric yogurt makers because of their busy lives.