Arnold Schwarzenegger, an Austrian-American actor, politician, and former professional bodybuilder, has had an incredibly successful and diverse career. Born on July 30, 1947, he rose to fame as a world champion bodybuilder and later transitioned into acting, starring in high-profile action movies such as the Terminator franchise. Over the years, Schwarzenegger has also ventured into business, philanthropy, and politics, serving as the Governor of California from 2003 to 2011.
As of June 2023, Arnold Schwarzenegger's net worth is estimated to be around $450 million. This impressive wealth has been accumulated through his savvy contract negotiations for blockbuster films, as well as his business ventures and investments. Arnold's success story serves as an inspiration for many, demonstrating that hard work, determination, and strategic planning can lead to incredible accomplishments.
Early Life
Arnold Schwarzenegger was born on July 30, 1947, in Thal, a small village in Austria. His parents were Gustav and Aurelia Schwarzenegger. Growing up in post-World War II Austria, Arnold faced a challenging childhood. His father, a one-time police chief, was strict and showed a preference for his older brother, Meinhard. This motivated Arnold to excel in various aspects of life, such as sports, academics, and work.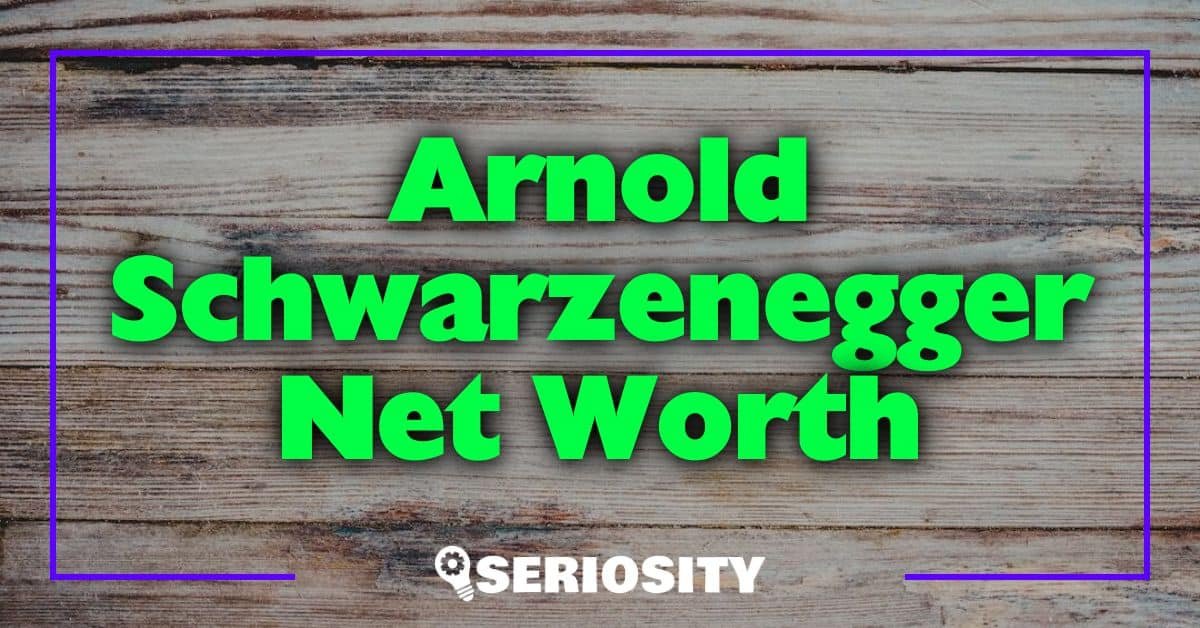 Showing an interest in sports from a young age, Arnold began weightlifting at 15. He was inspired by famous bodybuilders like Reg Park and Steve Reeves, and quickly developed a passion for the sport. Through dedication, consistent training, and discipline, Arnold achieved significant success in bodybuilding. At age 20, he won the Mr. Universe competition, making him the youngest ever to hold the title. Arnold would later go on to win this competition four more times, solidifying his status as an accomplished bodybuilder.
In addition to his athletic achievements, Arnold also had an entrepreneurial spirit. Even during his early bodybuilding career, he displayed a keen interest in business ventures. As his fame and fortune grew, so did his business acumen. Today, Arnold Schwarzenegger's net worth is estimated to be around $450 million.
Bodybuilding Career
Arnold Schwarzenegger's journey into bodybuilding began at the young age of 14. By the time he was 18, he entered and won his first major competition, Junior Mr. Europe. His dedication and passion for the sport paved the way for his many victories and achievements in the bodybuilding world.
In 1967, at just 20 years old, Schwarzenegger won the prestigious title of Mr. Universe. This accomplishment made him the youngest ever to claim this title, a record he still holds today. He continued to compete and dominate the Mr. Universe stage, ultimately winning the event three more times until 1969.
As determined as ever, Schwarzenegger went on to conquer the Mr. Olympia competition in 1970, becoming the youngest champion in the event's history at 23. Over the next few years, he would continue his reign, winning the event consecutively until 1975. His total of seven Mr. Olympia titles remained a record until it was surpassed in 1991 by Lee Haney.
During his time as a competitive bodybuilder, Schwarzenegger was featured in the groundbreaking documentary Pumping Iron (1977). This film chronicled the intense training and competition between Schwarzenegger and fellow bodybuilding greats Lou Ferrigno, and Franco Columbu. The documentary played an integral role in popularizing the sport of bodybuilding as well as increasing Arnold's notoriety globally.
In summary, Arnold Schwarzenegger's impressive bodybuilding career includes:
Winning Junior Mr. Europe at 18
Becoming the youngest Mr. Universe champion at 20
Claiming four Mr. Universe titles in total (1967-1969)
Winning seven Mr. Olympia titles (1970-1975)
Being featured in the influential documentary Pumping Iron (1977)
Throughout his bodybuilding career, Arnold Schwarzenegger showcased an unwavering determination and passion for the sport. His numerous accolades and achievements both paved the way for his future successes in Hollywood and contributed to his substantial net worth.
Acting Career
Arnold Schwarzenegger's acting career began in the late 1960s with his first film, Hercules in New York. Since then, he has become one of Hollywood's biggest stars, starring in over 50 films throughout his career. His early roles included a brief appearance in the 1973 film The Long Goodbye and a starring role in the 1982 fantasy film Conan the Barbarian. Schwarzenegger's breakout role came in 1984 when he starred as the menacing cyborg in James Cameron's science fiction thriller, The Terminator.
As the Terminator, Schwarzenegger took Hollywood by storm, establishing himself as an iconic action hero. The role would go on to spawn several sequels, including Terminator 2: Judgment Day, Terminator 3: Rise of the Machines, and Terminator: Dark Fate. These films, particularly Terminator 2, solidified his status as a box office draw and helped him earn a substantial fortune.
Schwarzenegger had success in other film franchises as well, such as the Predator and Total Recall series. His versatility as an actor allowed him to take on various roles, from action to comedy, and he was able to maintain his popularity in Hollywood for decades. He also had a brief foray into television, with appearances on shows such as The Apprentice and producing the epic drama series Pump.
Throughout his extensive acting career, Arnold Schwarzenegger has also worked as a producer on several of his films. This involvement in the production side of filmmaking has helped to increase his overall earnings and net worth, allowing him to have a greater influence on the creative direction of his projects.
Business Ventures
Arnold Schwarzenegger is not only a renowned actor and politician but also a successful businessman. He has established a diverse portfolio throughout his career, which greatly contributes to his net worth. As of 2023, Schwarzenegger's net worth is estimated to be between $400 million and $450 million.
One of the primary contributors to his wealth has been his real estate investments. Starting from the 1970s, Arnold has been actively involved in the real estate market. He began by investing his bodybuilding earnings in properties, which has proven to be a wise decision, as most of these investments have significantly increased in value over time.
In addition to real estate, Schwarzenegger has ventured into various entrepreneurial activities. Some of these include promoting boxing matches and launching a line of sports nutrition products. Furthermore, he co-founded the Planet Hollywood restaurant chain with fellow actors Sylvester Stallone and Bruce Willis in the 1990s, which has since become an iconic establishment.
Another key venture that Arnold has been involved in is the Arnold Sports Festival – originally named the Arnold Classic. Established in 1989, this annual multi-sport event has grown to become one of the largest fitness expos in the world, featuring professional bodybuilding, strongman, and related events. Arnold's involvement in the festival highlights both his passion for sports and his continued influence in the industry.
In summary, Arnold Schwarzenegger's business ventures have been instrumental in shaping his remarkable net worth. From real estate investments to entrepreneurial pursuits and the Arnold Sports Festival, his involvement in various industries showcases his versatility and business acumen.
Political Career
Arnold Schwarzenegger, a well-known actor, began his political career in the early 2000s as a Republican. He entered the political stage when he announced his candidacy in the 2003 California recall election. At the time, the incumbent Democratic Governor Gray Davis was facing mounting criticism and pressure to step down due to the state's fiscal crisis and ballooning budget deficit.
Schwarzenegger gained significant support from the Californian voters due to his immense popularity as an actor and businessman. His political platform focused on economic reform, job creation, and reducing the state's budget deficit. Leveraging his status as a political outsider and his strong public presence, Schwarzenegger won the recall election and became the 38th Governor of California.
During his tenure as the Governor of California, Schwarzenegger worked on a range of issues, such as education, infrastructure, and the environment. He implemented various measures to improve the state's economy, reduce air pollution, and promote renewable energy. In addition, Schwarzenegger managed to garner bipartisan support for some of his initiatives, showcasing an ability to bridge the gap between the two major political parties.
In 2006, Schwarzenegger was re-elected as California Governor, defeating Democratic challenger Phil Angelides. Throughout his two terms, he continued to strive for economic growth, job creation, and a balanced budget. As a Governor, Schwarzenegger could have earned up to $206,500 annually, including his social work contributions.
While Schwarzenegger concluded his time as Governor of California in 2011, his political engagement did not end there. He continues to be active in various political and social initiatives, advocating for environmental causes, financial reforms, and moderate politics. His political career and status as a successful actor, businessman, and former professional bodybuilder have contributed to Arnold Schwarzenegger's net worth of $450 million.
Personal Life
Arnold Schwarzenegger was married to Maria Shriver, a journalist and member of the Kennedy family, from 1986 to 2011. The couple has four children together: Katherine, Christina, Patrick, and Christopher Schwarzenegger. Unfortunately, their marriage ended in divorce after it was revealed that Arnold had fathered a child, Joseph Baena, with the family's housekeeper in 1997.
Joseph Baena has since followed in his father's footsteps, pursuing a career in fitness and bodybuilding. Arnold has maintained a relationship with Joseph, and they often spend time together focusing on their shared passion for fitness.
Patrick Schwarzenegger, another of Arnold's children, has also ventured into the world of acting and modeling. He has appeared in movies such as "Midnight Sun" and "Daniel Isn't Real." Continuous encouragement and support from his father has significantly contributed to his success in the entertainment industry.
Katherine Schwarzenegger, the eldest of Arnold and Maria's children, is an author and lifestyle blogger. She has published several books and has built a successful career by focusing on topics such as body image and self-empowerment. In 2019, Katherine married actor Chris Pratt, further solidifying her presence in the public eye.
Despite the challenges that emerged after the end of his marriage to Maria Shriver, Arnold Schwarzenegger has maintained strong bonds with all his children. The family is often seen together at various events, showcasing the importance of family in Arnold's life.
Arnold's philanthropic efforts include supporting Santa Monica College, where he established the Arnold Schwarzenegger Institute for State and Global Policy. This organization focuses on advancing public policy for the betterment of society. His dedication to giving back to the community, along with maintaining strong connections with his children, demonstrates the multifaceted nature of Arnold's personal life.
Awards and Recognition
Arnold Schwarzenegger has had a long and successful career, earning numerous awards and recognition for his achievements in various fields such as bodybuilding, acting, and politics.
In the world of bodybuilding, Schwarzenegger won a total of 19 titles, including seven Mr. Olympia awards, making him one of the most decorated athletes in the field. These accomplishments helped to propel him to international fame and ultimately led him to pursue a career in movies.
As an actor, Schwarzenegger has appeared in various blockbuster films, earning critical acclaim and a loyal fan base. One of his most notable awards came in 1977 when he won a Golden Globe for his role in the film "Stay Hungry." This early recognition foreshadowed the successful acting career he would go on to have, starring in iconic films such as "The Terminator," "Predator," and "Total Recall."
In recognition of his contributions to the entertainment industry, Schwarzenegger was honored with a star on the Hollywood Walk of Fame in 1987. This prestigious honor further solidified his status as a Hollywood icon and cements his place among a select group of celebrities who have made a significant impact on both the film and TV worlds.
As a politician, Schwarzenegger served two terms as the Governor of California, from 2003 to 2011. During his time in office, he focused on issues such as environmental protection, infrastructure development, and job creation. This political career added another dimension to his already impressive list of achievements and accolades.
In summary, Arnold Schwarzenegger is a true multi-hyphenate talent, with accomplishments spanning across bodybuilding, acting, and politics. With a Golden Globe, a star on the Hollywood Walk of Fame, and numerous bodybuilding titles to his name, he has left an indelible mark on the world and continues to inspire millions with his undeniable work ethic and passion for success.
Net Worth
Arnold Schwarzenegger, the Austrian-American bodybuilder, actor, and politician, has an impressive net worth of $450 million. With a career spanning multiple industries, Schwarzenegger has managed to accumulate his wealth through savvy business decisions and successful forays in the entertainment world.
One of the primary contributors to his net worth has been the lucrative salaries he earned from his movie appearances. Arnold's effective contract negotiations greatly impacted his earnings, allowing him to become one of the highest-paid actors in Hollywood. Notable blockbuster films such as "The Terminator," "Total Recall," and "True Lies" are just a few examples that contributed to his substantial earnings.
In addition to his acting career, Schwarzenegger has also made wise investments in commercial real estate, further increasing his wealth. His portfolio includes shopping malls, office buildings, and various other properties in the United States and Austria.
As one of the highest-paid individuals in the entertainment industry, Arnold Schwarzenegger's net worth has continued to grow throughout his career. His ability to excel in multiple industries, such as bodybuilding, acting, and politics, showcases his determination and skill in various fields.
In conclusion, Arnold Schwarzenegger's net worth of $450 million is a testament to his hard work, astute business decisions, and blockbuster film career. With a diverse and successful background, he continues to be a prominent figure in the public eye, even years after stepping away from his iconic action roles.
Comparisons to Other Actors
Arnold Schwarzenegger's net worth is estimated to be around $450 million in 2023. While this is an impressive figure, let's compare his financial standing to other famous actors in the industry.
Harrison Ford has a net worth of approximately $300 million. Known for his roles in the Star Wars and Indiana Jones franchises, Ford's earnings are lower than Schwarzenegger's but still significant.
Clint Eastwood is another legendary actor, with a net worth of about $375 million. As both an actor and a director, Eastwood has made substantial contributions to the film industry.
Sylvester Stallone boasts a net worth of around $400 million. As the star of blockbuster franchises such as Rocky and Rambo, Stallone's earnings are quite close to Schwarzenegger's.
Comparatively, other American actors have varying degrees of wealth:
Bruce Willis has a net worth of $250 million, with his Die Hard series contributing significantly to his income.
Robert Downey Jr, known for his role as Iron Man in the Marvel Cinematic Universe, has a net worth of $300 million.
Brad Pitt, a critically acclaimed actor and producer, holds a net worth of approximately $300 million.
Will Smith has an estimated net worth of around $350 million, with hit films like Men in Black and Independence Day under his belt.
George Clooney enjoys a net worth of $500 million, slightly higher than Schwarzenegger's, thanks to his acting and entrepreneurial ventures.
Dwayne "The Rock" Johnson, a former wrestler-turned-actor, has a net worth of about $400 million, owing to his successful transition to the film industry.
In conclusion, Arnold Schwarzenegger's net worth is competitive among his fellow actors. While some have higher wealth, such as George Clooney, others like Bruce Willis fall slightly below his financial standing.