StepNpull is a foot-operated device that allows people to open swinging doors without using their hands. Most swinging doors, traditionally, need to be operated with the help of hands, which makes hand contact necessary.
Now, the main problem with this arises in public spaces such as offices, airports, malls, etc., where people are concerned about hygiene, especially after the Covid-19 pandemic.
Mike Sewell, the owner of StepNpull, took note of this problem and, along with his partners Ron Ely and Kelly Coddington, was able to curate a foot-operated device that allows you to swing doors without letting you make direct contact with the door handle.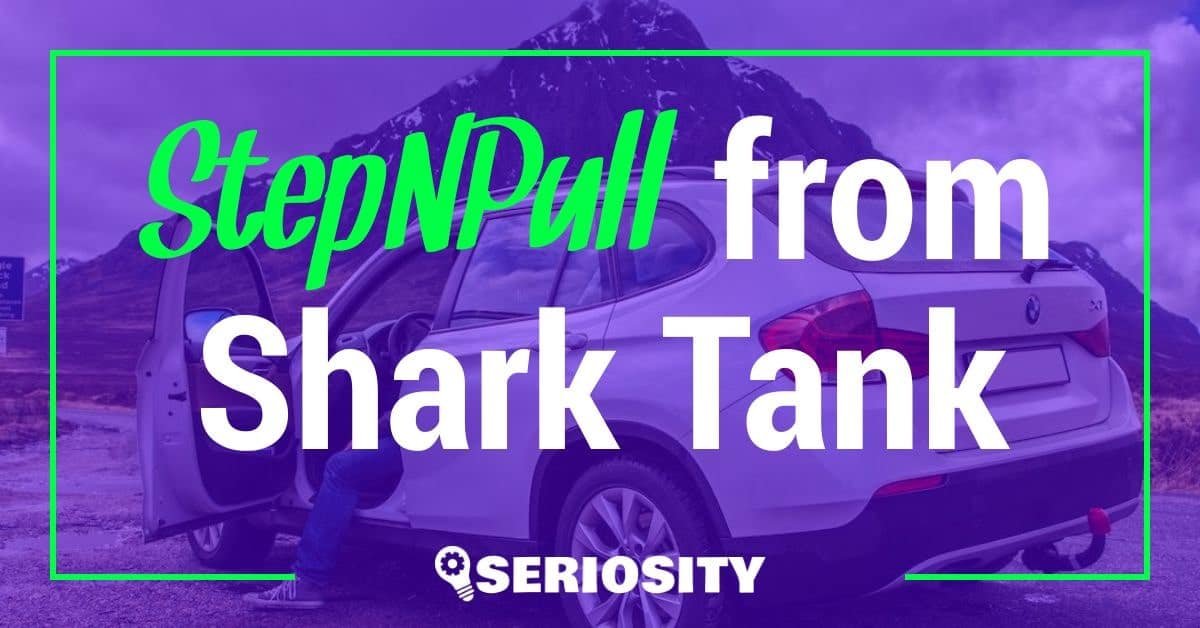 The Shark Tank pitch for StepNpull went quite well. Mike Sewell started the episode seeking $300,000 for 3% of the business from the sharks. He assembles a demonstration where an actor shows the sharks how to use the product without making direct contact with it.
He also talked about how the pandemic of 2020 worked in his favor and helped to boost sales immensely. Sales of the company in March 2020 exceeded $1.7 million, which, naturally, captured the interest of all the sharks in the room. Even the lifetime sales had exceeded $7 million.
The sharks were all greatly enamored by the sales of the company and the product itself. Mike Sewell Managed to impress them all, and he received offers from Daymond and Kevin. After some negotiations, Mike accepted Kevin's offer of getting 6% of the business for $300,000, which was quite close to the initial offer.
StepNpull is still an active company so far, but the negotiations for the company regarding the offers are still ongoing,
Our Review Of StepNPull
Of course, there is quite a lot of speculation regarding how useful this product truly is. We decided to take it upon ourselves to determine whether this product is truly worth it or not.
Since the product is available on Amazon, you can easily purchase it for home use as well if you do not want to touch trash cabinets, bathroom door knobs, and other door handles that are laden with germs.
We would easily say that this product is a great hit. It looks a bit intimidating at first where you think it would exert too much of a force or be too harsh for the foot, but once you install it, it becomes much easier to operate.
We decided to take a hammer and a drill and try installing it ourselves on a bathroom door. The installation took about 15 minutes, which really helped us appreciate the design. The only point of concern was the drilling mechanism which took longer than necessary. But this in itself was also not a major issue.
Upon using it, we also realized that StepNpull was also easy to use and not intimidating at all. The mechanism was very easy and an instant hit.
It is great for germaphobes or anyone who is concerned about making contact with door handles and other accessories in public places. This has helped in public spaces, especially during the pandemic. One application we have heard about often is the use of these handles in laboratories and clinical settings where the workers do not have to take their gloves off every time they enter or leave a room.
Other than sanitation, StepNpull is also excellent for convenience purposes. We have also heard about it being installed on restaurant doors where workers carrying heavy piles of plates and trays full of drinks no longer have to open the door with their hands or wait for another person to open the door for them. It is quite an easy mechanism.
Lastly, we would also like to add that StepNpull is also very heavy-duty. This means that we believe it will last us for a long time, and we will be able to make as much use of it as we possibly can.
Pros Of StepNPull
StepNpull is an excellent product, and there are many pros we can attribute to it. Here are some of them:
It is easy to install
It is very easy to use
Prevents infections and cross contamination
Convenient for restaurants and labs
Heavy duty
Cons Of StepNPull
The cons of StepNpull are nothing we cannot overlook, but here are only a few issues we could find with the product:
The design looks intimidating at first
Drilling is slightly difficult
Who Is StepNPull For?
We can say that StepNpull is for the entire human race after the covid-19 pandemic. One of the main points of concern after the pandemic was not being able to touch door handles and doors in public places since it could spread infection. StepNpull easily solved this problem.
On the other hand, StepNpull was also able to add a lot of convenience to people's lives. Not having to empty your hands to open doors has created opportunities for labs, restaurants, and other such arenas where StepNpull has been a hit.
It is even great for home use when you do not want to touch trash cabinets and other less-sanitary places in your house.
Are There Any Alternatives?
There are a few alternatives to StepNpull available on the market as well. Some of these alternatives include:
Since the product is unique, we will say that there are not too many alternatives that offer you the same level of convenience as StepNpull.
Our Final Thoughts
StepNpull can be regarded as a revolutionary product, solving a major problem of sanitation regarding door handles. However, we can also safely say that this is not the only solution that StepNpull has provided.
It has also been able to help other environments through the sheer convenience of opening a door with your foot. We also think that the design is great, and the product is very easy to install and use, making it a truly wonderful product. We hope the company continues to do great business in the future as well.