Shark Tank Season 14 premiered on September 23, 2022, with 22 episodes. The season featured a live audience in episode 1 and a handful of new guest sharks throughout the season.
Some of the businesses that appeared in the season include Nature's Wild Berry, See The Way I See, Noshi Food Paint, You, Stakt, Create A Castle, Mama O's Premium Kimchi, Halloween Moments, Honey Buchies (Bon Bee Honey), Dapper Boi, and Play Maysie. Some businesses received deals while others did not.
You can visit the corresponding page below for more information on specific episodes and businesses.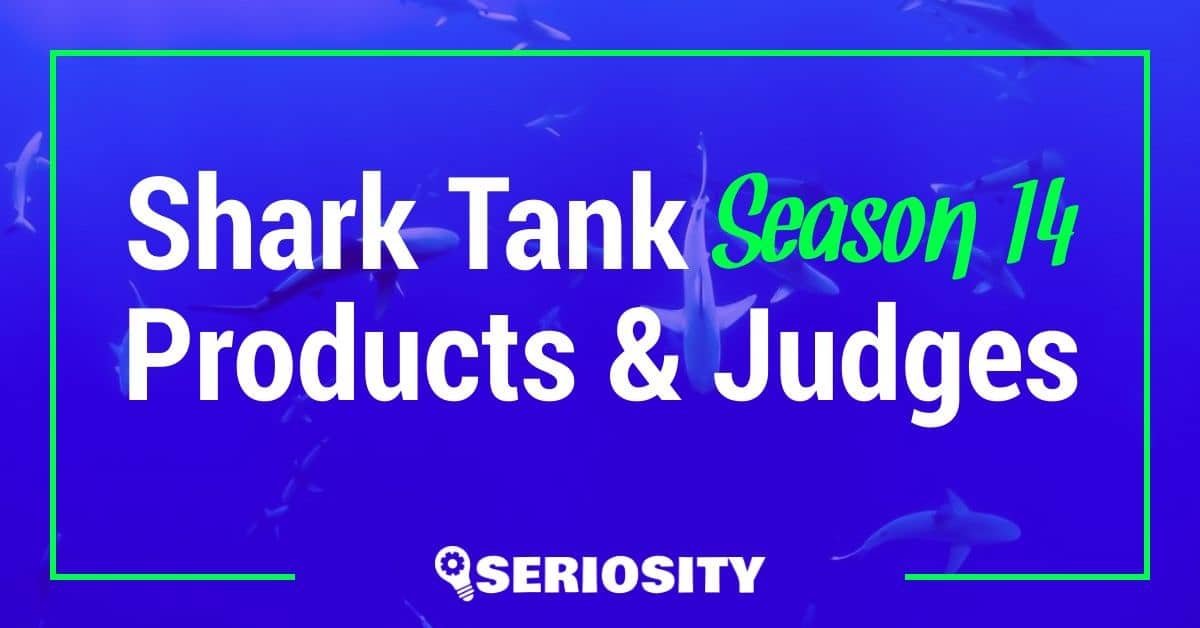 Judges from Shark Tank Season 14
Kevin O'Leary

Barbara Corcoran

Daymond John

Robert Herjavec

Mark Cuban

Lori Greiner

Gwyneth Paltrow (Guest)

Tony Xu (Guest)

Peter Jones (Guest)

Daniel Lubetzky (Guest)

Emma Grede (Guest)

Kendra Scott (Guest)
See the Shark Tank Cast from every season. 
Shark Tank Products from Season 14
The businesses and products from season 14 will be updated as the season progresses. I'm sure that, as usual, there will be some amazing businesses, a few Shark Tank failures, and everything in between. If you'd like to look at every episode of Shark Tank, check out our list of all Shark Tank products that have ever been on the show.
Episode 22
Tucky Belt
Tones of Melanin
Influencers in the Wild
Eyewris
Episode 21
Nature's Wild Berry
Noshi
See The Way I See
You Go Natural
Episode 20
Dapper Boi
Honey Bunchies
Tia Lupita Foods
Play Maysie
Episode 19
Milkify
Burlap & Barrel
Cincha Travel
Parting Stone
Episode 18
Lavabox
Bleni Blends
HappiFloss
The Ice Cream Canteen
Episode 17
Autio
Tngnt Ski Bikes
Chubby Buttons
Crispy Cones
Episode 16
Pluie
Flated
Woof
Sweetkiwi
Episode 15
Eat Your Flowers
Surf Band Pro
Youthforia
Big Mouth Toothbrush
Episode 14
Chub Rub Patch
Funkkoff!
Kahawa 1893
ReTold Recycling
Episode 13
AnyTongs
Copy Keyboard
FryAway
Slick Barrier
Episode 12
Nopales
Nutr
Brass Roots
Frescos Naturales
Episode 11
Cabinet Health
Kinfield
Metric Mate
Wildwonder
Episode 10
Kudos
JicaFoods
VoChill
Long Table Pancakes
Episode 9
Ready Festive
ZipString
Chessup
Garage Celebrations
Episode 8
Hummviewer
Sliimeyhoney
FireFighter1
Shredskinz
Episode 7
Boarderie
Ride FRSH
Action Glow
Legacy Shave
Episode 6
Collars & Co
Square Keg
Nana Hats
Wondry
Episode 5
Plufl
Bridal Babes
Big Big, Little Bee
Pretty Rugged
Episode 4
Storage Scholars
GHIA
Expedition Subsahara
Woosh
Episode 3
Pumpkin Glove Scraper by Halloween Moments
Stakt
Mama O's Premium Kimchi
Create a Castle
Episode 2
Turbo Trusser
The Woobles
Banana Phone
Stealth Bros & Co
Episode 1 (Live Episode)
KENT
oogiebear
Pizza Pack