Rick Hopper, the inventor of ReadeRest, was exhausted from losing his glasses all the time or dropping them. He was even more tired of the high cost of replacing eyewear. Hopper realized he is not the only person who has been dealing with this problem, but rather a good number of people have the same complaints as him. But most of them, he figured out, rely on chains attached to their glasses to ensure they don't lose them.
For this, Hopper found an excellent solution: the ReadeRest. These are magnetic eyeglass holders that will ensure you never lose your glasses.
Hopper first created this product by using a paperclip and a few magnets. That is how simple this product was, but it worked wonders. Because Hopper never lost or broke his glasses after that.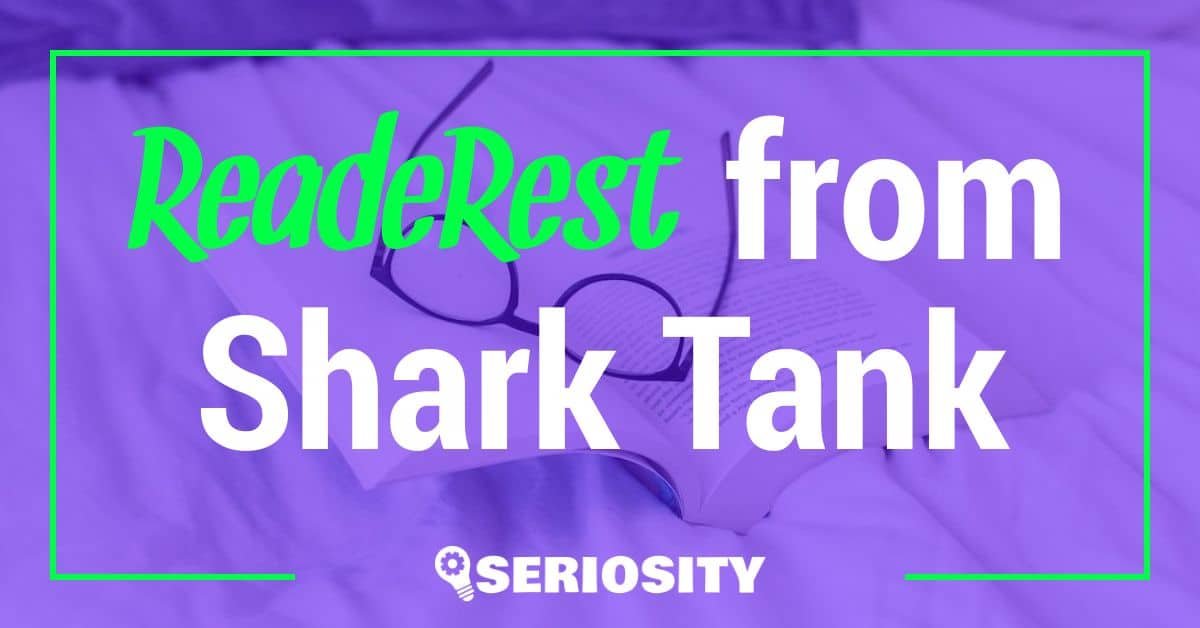 Hopper's creative mind saw a problem and developed a solution for that in the form of ReadeRest, a glasses holder.
ReadeRest works by using high-powered magnets, to which you can attach your eyeglass clip. Customers can put these glasses holders on any cloth-like material, and Hopper has ensured your glasses will not go anywhere.
Before coming on Shark Tank, Hopper created these glasses holders manually. He did have a patent for them. Hopper was proud and confident about the product and knew he had developed a product the market would love.
Hopper was short of the resources that would allow him to take this product into the mass market. He successfully made sales worth $65,000. He made well over 100,000 of these eyeglass holders.
Rick knew how powerful his product was. He featured on the third season of Shark Tank, where he sought $150,000 for a 15% share in ReadeRest. Not all Sharks were impressed enough. Robert thought there was too much work that needed to be done, and Kevin did not appreciate the valuation cost. Daymond did not believe ReadeRest would appeal to the market.
However, Lori made him an offer of $150,000 for 65% because she believed this product had the potential. Mark Cuban was also out after hearing Lori's deal. Hopper accepted Lori's deal.
After Shark Tank, Hopper was able to confirm manufacturing for the ReadeRest. Lori told Hopper she would make him a millionaire, and she did not leave any stone unturned. She also put his product on QVC, where it sold out in only five minutes.
In terms of sales, ReadeRest gained $6 Million in sales in 2012. Daymond's predictions were proven false; Hopper's product has a huge market, and today, Hopper is successfully a millionaire. Only 3 years after the show, ReadeRest made sales worth $13 million.
The company is still active and thriving, and they have also introduced reading glasses. And as of March 2022, they have earned an annual revenue worth $5 million.
Lori was completely right when she said she knows how to make a hero out of zero.
Our Review of ReadeRest
In our opinion, ReadeRest is a company built on Hopper's creativity and Lori's faith and experience. Lori saw the massive potential of this simple product made out of paper clips and magnets, and her investment and support gave Hopper the platform to take his business off.
The product is simple to use, and it is reliable. All you need to do is place your plastic back plate inside your clothes and the front clip towards the outside. That's all. The magnets will attach themselves. Because they are magnets, they will not tear your clothes.
And who said this has to be a boring product? ReadeRest has since introduced various styles and products in its collection. The collection includes their original ReadeRest, a black and steel option, and some with Swarovski gems.
People can purchase this product directly from the ReadeRest website or Amazon.
There is a reason why it is the number one magnetic eyeglass holder. Customers undoubtedly love and trust this product. With over 4000 reviews on Amazon, customers mainly rave about the practicality of this product. It has changed the way they keep their eyewear safe.
They also highlight that the company is very helpful with replacements of the magnets because they provide their customers with a lifetime guarantee. Other customers have mentioned the incredible quality of the product and the company's dedication to maintaining that.
Customers don't use these holders for only their glasses. They have also utilized the product to secure their badges, which has worked wonderfully.
Pros of ReadeRest
The product is a hit, and there is no questioning that because of the numerous pros it has.
People can save money as they don't have to invest in eyewear replacements.
People don't have to spend time looking for their glasses because they're securely attached.
Despite being an effective and popular product, ReadeRest is surprisingly affordable.
Cons of ReadeRest
It is difficult to think of the cons of ReadeRest. The company has shown great commitment to its product and its customers.
The magnets are a little heavy, and unless the shirt is of heavier material, these magnets will pull down on your shirt.
Who Is ReadeRest For?
ReadeRest is for the population in America that depends on wearing eyewear on a regular basis.
Are There Any Alternatives?
Losing or dropping glasses is a common issue many people face. Besides ReadeRest, other companies have created alternatives to their magnetic glasses holders. White Elegance is one brand that has created a similar product that functions along the same lines. But their product looks more like a hook; visually, it has an awkward design.
Also, ReadeRest, unlike White Elegance, solely focuses on glasses holders' design, therefore they have much more variety.
Final Thoughts
When Hopper presented his product on Shark Tank, some of the Sharks were not convinced by the product, which is fair. But Hopper has successfully proven to them, with the help of his investor Lori, what a useful product he has created.
Today Hopper is earning millions from a creative solution he came up with in his garage. ReadeRest also went on to become the biggest success story of that season.