PetRol is a drink for dogs that Julie Yenichek and Ryan Huyghe created. The main purpose of the drink is to replace regular drinking water with a drink that is hydration and nutritious. The drink is reverse osmosis filtered water which is then enriched with natural flavorings and six added minerals and vitamins that are supposed to be very healthy for your dog. The 12-ounce bottle of PetRol has a total of 8 calories, which means that it is a healthy treat compared to a regular dog treat biscuit with around 120 calories.
According to the creators of PetRol, dogs prefer the energizing and nutritional drink to just regular water. A normal dog weighing 35 pounds needs about 34 ounces of liquid each day to stay properly hydrated. Around 3 bottles of PetRol would be perfect for such a dog. Not only would it be hydrating your dog and giving it important nutrients and minerals, but it would also be a delicious and tasty, low-calorie treat.
Yenichek and Huyghe were long-time dog lovers and owned their own dogs. They worked for several years to come up with the formula for PetRol. Initially, they got the product made using funds raised from an IndieGoGo campaign that helped them raise $13,795 in early 2016.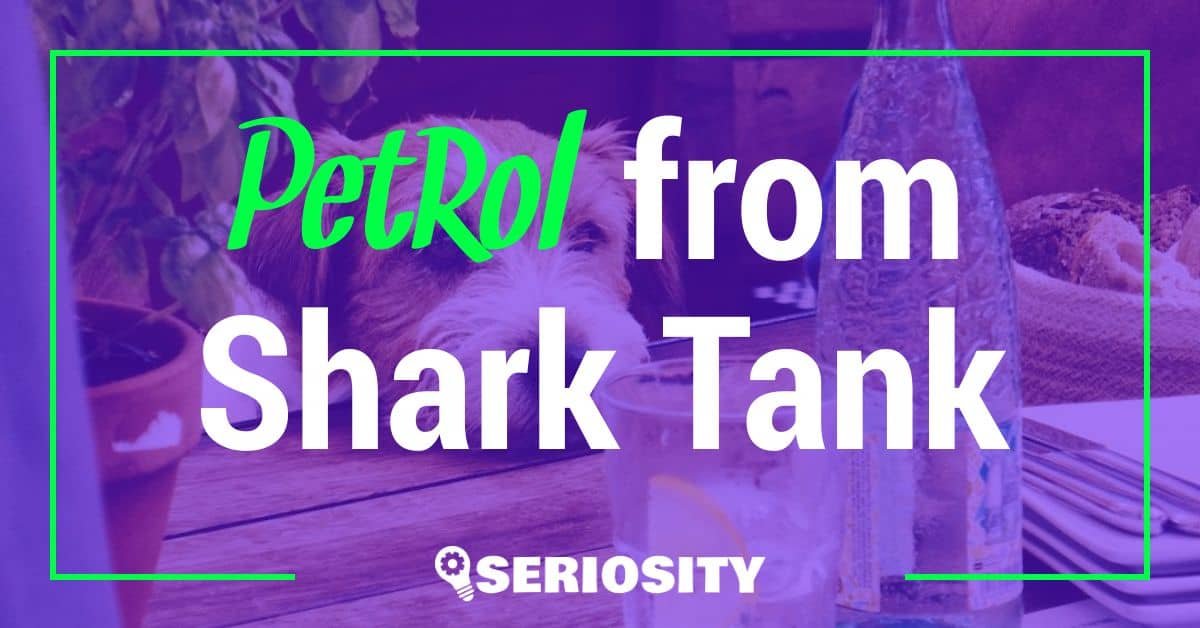 PetRol was exclusively sold on Amazon, although Yenichek and Huyghe aimed to ultimately get the drink on the shelves of pet stores across the United States. Yenichek's $100,000 investment into the company was not enough to keep it afloat, and Huyghe's $25,000 to resurrect the business also did not meet the mark. For this, they needed help from Shark Tank.
Is PetRol Still an Active Company?
Unfortunately, PetRol is no longer an active company. Following their appearance on Shark Tank, the company shut down in January 2019. They did not have enough funds to keep the company afloat, and their losses were too high. Following the end of PetRol, Yenichek went on to work at the company Lowe's and Huyghe got involved with Able Roof and Mr. Roof.
How Did the Shark Tank Pitch Go?
PetRol founders Julie Yenichek and Ryan Huyghe presented their company on Shark Tank Season 9, Episode 21. They asked for $150,000 in exchange for 20% equity of their business.
The pitch began with Yenichek and Huyghe walking into the room with two dogs. The dogs kept the sharks – Rohan, Barbara, Lori, Robert, and Marl – entertained while Yenichek and Huyghe demonstrated their PetRol dog drinks. Once the dogs were given the drinks, they left the room.
Then, Yenichek and Huyghe told the sharks all about their company's journey, from its inception to how it was doing then. In general, the sharks were disappointed by the company's numbers. PetRol only made $16,000 in sales in 2016, which was too low.
Rohan was the first to step out, stating that there didn't seem to be enough demand for a product like PetRol. Barbara was out next because she didn't think a business that had already failed would be able to start up again. Lori was the third to leave, followed by Robert, who believed that PetRol had too many external challenges to cope with. That left just Marls, who was also ultimately unwilling to make a deal. Therefore, PetRol founders Yenichek and Huyghe left the shark tank without any offers.
Our Review of PetRol
We would love to believe that PetRol is much more hydrating and nutritious for our beloved dogs than simple water. However, it is a bit concerning or discouraging that it took the founders of PetRol over eight years to develop a relatively simple formula for the drink. The low sales were further discouraging and were likely a result of poor marketing and the inability to capture the attention of potential buyers.
In general, we found that while our dogs did enjoy the drink, it seemed a lot like a luxury that was not worth the money. While PetRol is rich in nutrients and minerals, our dogs can get those same nutrients and minerals through a balanced diet. Overall, there doesn't seem to be much scope for PetRol, given that most dogs can do just fine with regular water and do not need hydrating treats.
As part of our review, we have also listed down the pros and cons of PetRol for you:
Pros of PetRol
100% natural flavoring, nutrients, and minerals
Ensures your dog will enjoy the taste
Keeps your dog hydrated and healthy
Relatively affordable
A good substitute for regular water
Low calories as compared to other treats
Cons of PetRol
It can be classified as a luxury product
It can become redundant if your dog already has a balanced diet
Who is PetRol For?
PetRol is for any dog owners that wish to buy a hydrating and nutritional smart drink for their dogs. Dogs usually enjoy the taste of PetRol and are quick to drink it, making it a good option for keeping dogs hydrated. However, it is not exactly a necessity, meaning that most dog owners might not feel the need to spend money on the drink when they can just give their dogs a regular diet and plain water.
Are There Any Alternatives?
There are a few alternatives to PetRol available on the market. Whether you are looking specifically for hydrating drinks or other treats that provide dogs with nutrients and minerals, you can try out the products from companies like Pet Honesty, Cheers!, and Woof and Brew.
On the other hand, if you are giving your dog a balanced diet and plenty of water, there is no need for an additional hydrating treat. There is no better alternative for hydration than simple water.
Our Final Thoughts
The overall shark tank pitch for PetRol did not go very well, and the company ultimately shut down and stopped making their dog drinks. We think that the hydrating dog drinks would be classified as a luxury anyway, and very few dog owners would be interested in buying the product.