Master P, an American rapper, actor, and entrepreneur, has been an influential figure in the entertainment industry for his remarkable music and immense business acumen. Known for his rags-to-riches story, he has inspired millions with his unique journey to success. Over the years, Master P has shared numerous quotes that offer wisdom, motivation, and a glimpse into the mindset that has brought him his well-deserved accomplishments.
These quotes not only capture the essence of Master P's experiences but also serve as valuable life lessons for those looking to achieve success in their own lives. From emphasizing the importance of hard work and perseverance to shedding light on the duality of human nature, Master P's quotes offer a wealth of inspiration for people from all walks of life. As you delve into these powerful words, remember that they come from a man who has faced countless challenges and emerged victorious, demonstrating that it is possible for anyone to overcome adversity and find success with the right mindset and determination.
Master P's Success Story
Percy Robert Miller, more commonly known as Master P, is a prime example of the power of hard work and determination. From humble beginnings, he has turned his passion for music into a prosperous career as a rapper, music producer, and entrepreneur. As the founder of No Limit Records, he helped to shape the hip-hop and rap scenes during the 90s and early 2000s.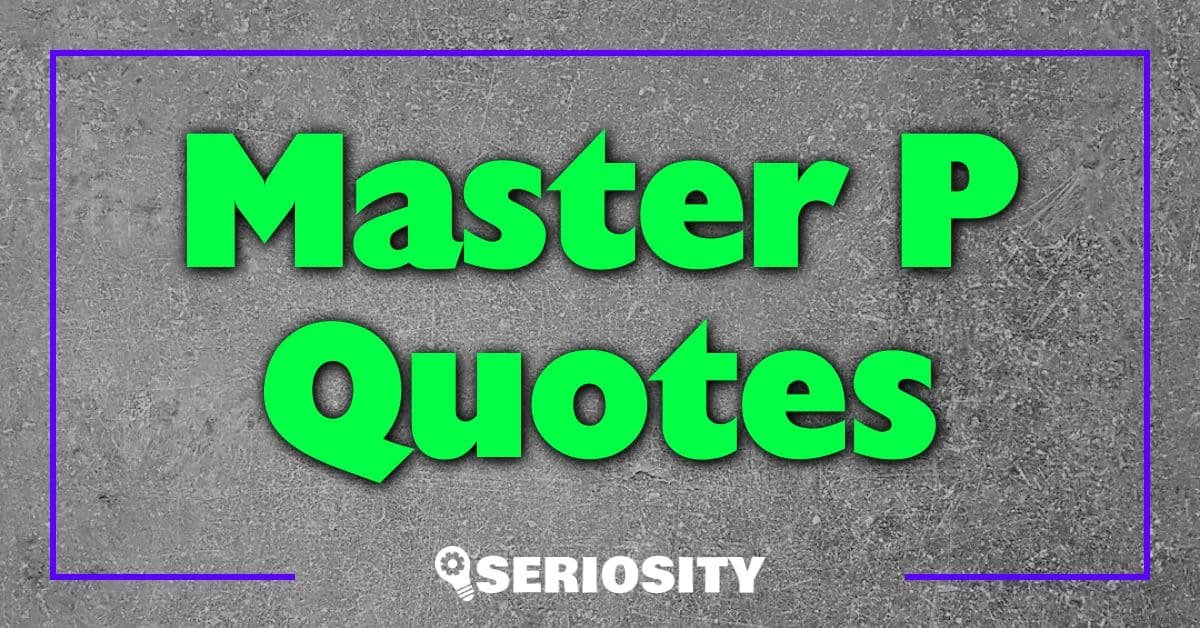 Born and raised in a low-income neighborhood, Master P did not let his difficult upbringing hinder his progress. He attended the University of Houston on a basketball scholarship before transferring to Merritt College in Oakland to study business. During this time, he began to take an interest in music and, after inheriting $10,000 from his grandfather's malpractice lawsuit, invested in opening a record store called No Limit Records and Tapes.
The store's success led to the creation of No Limit Records, the label where Master P would release his own music and sign emerging artists. The independent label quickly gained fame for its street-smart lyrics, hard-hitting beats, and gritty Southern style. Throughout the years, it produced several chart-topping albums and enabled Master P to establish his name in the industry.
In addition to his contributions to the music world, Master P is an accomplished entrepreneur with multiple business ventures under his belt. His empire includes a line of snacks called Rap Snacks, a clothing line called P. Miller Designs, and even a sports agency called No Limit Sports Management. These successful enterprises demonstrate that Master P is as skilled in business as he is in music.
Master P's story of success speaks for itself. Despite facing numerous challenges in his life, he has managed to build an impressive career in the music industry and beyond. His accomplishments and unwavering determination have earned him the respect of music fans and entrepreneurs alike, proving that there truly is no limit to what one can achieve with dedication and hard work.
Inspirational Master P Quotes
Master P, born Percy Robert Miller, is a rapper, entrepreneur, record producer, and philanthropist who has provided numerous inspirational quotes on hard work, success, and life experiences. His quotes serve as reminders to persevere, stay determined, and maintain a positive attitude in our pursuits.
One of Master P's notable quotes is, "Work hard and never make excuses." This quote emphasizes the importance of giving your best shot in whatever you do and not blaming external factors for your shortcomings.
Another powerful quote by Master P is about utilizing time wisely: "Everybody has 24 hours." Indeed, everyone has the same amount of time in a day to create opportunities or make progress. It's crucial to utilize our time effectively, seeking knowledge, education, and experience to grow and achieve success.
Furthermore, Master P also shares his own life story as an inspiration: "I grew up in the ghetto, and I was able to get a second chance. That's what I'm trying to tell kids." From this quote, he encourages others to learn from their past experiences and understand that it's never too late to change for the better.
Master P also acknowledges that there is a mix of good and bad in everything, stating, "I think you've got good people and bad people in everything you do. If you start making a big deal of it, then it's a problem. It's like in life." This quote serves as a gentle reminder that life is a blend of positives and negatives, and it's essential to stay centered and focused on our goals.
In conclusion, these motivational quotes from Master P are valuable reminders for individuals seeking success, personal growth, and inspiration. They encourage hard work, determination, and embracing life experiences while maintaining a balanced perspective on the journey to achieving our aspirations.
Master P's Early Life and Family
Master P, born Percy Robert Miller on April 29, 1970, in New Orleans, Louisiana, grew up in a close-knit family unit. He was the oldest of five children, taking on a leadership role among his siblings from a young age. His early life was spent in the Calliope Projects, a low-income housing development in New Orleans. This challenging environment helped shape Master P's values and determination to succeed.
Master P's family played a significant role in his life, embracing qualities such as hard work and perseverance. These values, combined with the experiences from his upbringing, would be the foundation for many of his quotes and life philosophies. His mother, a teacher, and his father, a small business owner, instilled the importance of education and entrepreneurship in their children.
During his teenage years, Master P faced several struggles and challenges associated with growing up in the Calliope Projects. He witnessed crime, violence, and poverty daily, experiences that would later influence his music and drive his ambition to create better opportunities for himself and his community. Despite these hardships, Master P remained determined to make a better life for himself and his family.
Master P's family ties extend beyond his immediate family, with his younger brother, Corey "C-Murder" Miller, and Vyshonn "Silkk the Shocker" Miller also finding success in the music industry. The Miller family's dedication to their craft and commitment to supporting one another serves as an inspiring example for others.
Music Career and No Limit Records
Master P, born Percy Robert Miller, is a prominent figure in the hip-hop industry known for his profound impact on rap music, particularly through No Limit Records. This independent record label, founded by Master P in 1990, allowed him to build an empire and create opportunities for numerous upcoming artists.
Master P debuted in 1991 with the album "Get Away Clean", followed by "Mama's Bad Boy" in 1992. However, it was his fifth studio album, "Ice Cream Man" (1996), that brought him massive success. This album, featuring the well-known track "Mind of a Psychopath", paved the way for Master P's illustrious career in the music industry.
Under No Limit Records, Master P released various successful albums and singles, some receiving gold and platinum certifications, confirming his prowess as a music producer and artist. This record label not only propelled Master P to stardom, but also contributed significantly to the careers of hip-hop and R&B artists such as Snoop Dogg and Silkk The Shocker.
In addition to producing music, Master P owned a record store, providing a platform for the distribution of No Limit Records' releases. This business venture played a crucial role in the label's expansion and ability to nurture the careers of multiple artists.
Master P's music career has been marked by a confident, knowledgeable, and clear approach. His quotes often inspire hard work and perseverance, such as, "Work hard and never make excuses." These words of wisdom have cemented Master P's legacy within the rap music scene, going beyond his notable accomplishments with No Limit Records.
Business Ventures and Entrepreneurship
Percy Miller, also known as Master P, is a prolific entrepreneur and investor with a diverse range of businesses under his belt. One of the most notable business ventures attributed to Master P is his own company, P. Miller Enterprises. This business entity focuses on a multitude of industries, including music, film production, and management services. With an innate understanding of the power of leveraging his success in the entertainment industry, P. Miller has diversified his investments, leading to a considerable increase in his net worth.
In addition to his entertainment ventures, Master P has also delved into the world of media with the launch of Better Black Television (BBTV). Established in 2008, BBTV aims to promote positive images of the African-American community while offering a wide range of content, from news and documentaries to children's programming and sports. By founding a media platform catering to an underserved audience, P. Miller demonstrates the importance of market understanding and innovation in entrepreneurship.
Master P's business acumen extends to his involvement in various investment opportunities. His ventures range from real estate investments to owning a line of food products called "Uncle P's," inspired by his redemptive journey in personal finance and growth. These investments highlight Miller's diversity and long-term perspective when it comes to managing and growing his wealth.
Throughout his entrepreneurial career, Master P has continually displayed a confident, knowledgeable, and neutral approach to business. His clear understanding of emerging opportunities and his willingness to take risks have made him an influential figure in the world of entrepreneurship. As a result, Master P's success serves as a shining example of perseverance, strategic thinking, and dedication in the realm of business ventures and entrepreneurship.
New No Limit Records and Other Labels
Master P, the founder of No Limit Records, went on to establish several other record labels, including New No Limit Records. In the early 2000s, after the original No Limit Records had faced financial issues, Master P decided to create a fresh foundation for artists and launched New No Limit Records. This new label was in partnership with Universal Records and featured artists like Magic with the album "White Eyes."
Over the years, Master P has continued to establish more record labels. One of these is Koch Records, which focused on various music genres and became a platform for many artists to showcase their talent. As a result, it attracted a diverse range of musicians and allowed for a more extensive musical reach.
In addition, Master P created Guttar Music Entertainment, a record label that aimed to house both up-and-coming and established artists. His goal was to provide opportunities for talented musicians, irrespective of their current fame, while maintaining high-quality music standards.
Master P later formed Take A Stand Records, which focused on nurturing and promoting socially aware artists. This label was dedicated to music that made a positive impact on society by addressing social issues and inspiring change.
More recently, Master P launched No Limit Forever Records as a rebranding of the original No Limit Records label. This new iteration aims to continue the legacy of No Limit Records by signing current artists focused on carrying forth the vision of Master P. The label is committed to empowering and giving a platform to talented musicians who share Master P's ambition and passion for music.
Throughout his career, Master P's entrepreneurial spirit and dedication to the music industry have been evident in the numerous record labels he has established. His commitment to providing opportunities for various artists has allowed him to remain influential in the industry, while continuing to inspire and uplift musicians and fans alike with his confident, knowledgeable, and clear approach to success.
Influence in Television and Film
Master P, a renowned actor and producer, has significantly impacted the television and film industry through his numerous projects. In 1997, he founded No Limit Films, a production company that allowed him to showcase his creative talents. Some of the most notable films produced under this banner include "I'm Bout It," "The Players Club," "I Got the Hook Up," "Foolish," "No Tomorrow," and "Hot Boyz."
As an actor, Master P has appeared in several films and television shows, demonstrating his versatility in various roles. He starred in "Scary Movie 3" (2003), "Still 'Bout It" (2004), "Decisions" (2004), "Repos" (2006), "Uncle P" (2006), "Toxic" (2008), "Internet Dating" (2008), and "Soccer Mom" (2008). Each of these projects showcased his ability to connect with a wide range of audiences, enhancing the reach of his influence in the entertainment industry.
Master P has also appeared in the television series "Romeo!" (2003-2006), where he played the role of Percy Miller, the father of the main character. This role exhibited his talent not only as an actor but also as a father figure. Furthermore, he participated in the popular reality show "Dancing with the Stars" (2006), proving his skills beyond acting and producing.
Throughout his career, Master P has been recognized for his contributions to both film and television, with these projects highlighting his influence in the entertainment world. His dedication to his craft and ability to reach diverse audiences demonstrate his undeniable impact on the industry.
Sports and Other Ventures
Master P, who gained fame as a rapper and entrepreneur, has delved into various realms, including sports and philanthropy. He's known for his strong work ethic and belief in hard work, as evident in one of his quotes: "Work hard and never make excuses."
In the world of sports, Master P had a brief stint in the NFL. He participated in training camps with NFL teams such as the Carolina Panthers and the Toronto Argonauts. Although he did not make an official roster, his practice experiences in professional football demonstrated his passion for sports and proving his talents outside of music.
Master P's interest in sports extends beyond football. He played in the McDonald's NBA All-Star Celebrity Game, showcasing his basketball skills to fans and celebrities alike. His engagement in these sports events emphasizes his belief in striving for success and exploring new opportunities, as expressed in his quotes.
Philanthropy plays a significant role in Master P's ventures. He founded the P. Miller Youth Centers, which aim to provide a safe environment for young people to learn and develop their talents. These centers, named after Master P's real name, Percy Miller, demonstrate his commitment to giving back to the community and helping the next generation succeed.
Another charitable initiative connected to Master P is the P. Miller Food Foundation, which aims to address issues of hunger and food insecurity in impoverished communities. By launching this foundation, he shows his dedication to tackling pressing social problems and alleviating the struggles faced by many individuals and families.
In conclusion, Master P's ventures in sports and philanthropy showcase a unique blend of talent, drive, and dedication. From the gridiron of the NFL to basketball's celebrity games, his willingness to explore and conquer new terrain is inspiring. Additionally, his charitable work in the P. Miller Youth Centers and P. Miller Food Foundation highlights his desire to make a tangible impact on the lives of those in need.
Remember to stay confident, knowledgeable, neutral, and clear when discussing these topics.
Collaborations with Other Artists
Master P, also known as Percy Miller, has a long history of collaborating with various artists throughout his career. As a prominent figure in the gangsta rap scene, he has worked with numerous talented artists, enabling him to create unique and powerful music.
One such collaboration was with TRU, a rap group composed of Master P and his brothers, Silkk the Shocker and C-Murder. This group played a significant role in Master P's early career, as they laid the groundwork for his distinct style in the rap genre. Their music often revolved around life in the Calliope Projects, a New Orleans neighborhood with a history of crime and poverty.
Additionally, Master P collaborated with legendary rapper Tupac Shakur in the mid-1990s. This partnership resulted in some memorable tracks, such as "Homies & Thuggs" and "Playaz from the South." Their musical partnership showcased the raw and unapologetic nature of gangsta rap, while also demonstrating the powerful bond between two of the genre's most influential figures.
In the late 1990s, Master P joined forces with E-40, a rapper hailing from Richmond, California. Their collaboration helped solidify the connection between West Coast and Dirty South hip-hop styles, as both artists brought their unique flavor to the tracks they created together. This union demonstrated the versatility of Master P as an artist, as he was able to connect with musicians from various regions and styles.
Throughout his long and successful career, Master P has always been dedicated to collaborating with other talented artists. These partnerships have not only expanded his musical repertoire but also helped to shape the gangsta rap genre as a whole. By working with various artists from diverse regions and backgrounds, Master P has continued to assert his influence and establish himself as a true icon in the hip-hop world.
Significant Songs and Albums
One of Master P's most influential songs is "Make 'Em Say Uhh!", which was released in 1997 as the lead single from his sixth studio album, Ghetto D. The song became a massive hit, peaking at number 16 on the US Billboard Hot 100 chart. Known for its energetic beat and memorable hook, "Make 'Em Say Uhh!" showcased Master P's distinct style and helped solidify his status as a prominent figure in the hip-hop community.
Ghetto D itself is an important album in Master P's discography, as it marked a significant turning point in his career. Released in 1997, the album features collaborations with other prominent artists such as Silkk the Shocker, C-Murder, and Mia X. With tracks like "I Miss My Homies" and "Weed & Money," the album offers a mix of party anthems and emotional reflections on life in the ghetto. Ghetto D reached number one on the US Billboard 200 chart and has been certified triple platinum by the RIAA.
Another notable album in Master P's career is MP Da Last Don, released in 1998. Initially intended to be his final album before retirement, MP Da Last Don showcased his entrepreneurial spirit and storytelling ability, with tracks like "Goodbye to My Homies" and "War Wounds." The album, which features appearances from Snoop Dogg, UGK, and others, was also commercially successful, debuting at the top spot on the US Billboard 200 chart and eventually being certified four times platinum by the RIAA.
Lastly, Only God Can Judge Me is another significant album in Master P's collection. Released in 1999, the album touches on themes of redemption and perseverance through its introspective tracks like "Ghetto in the Sky" and "Where Do We Go From Here." The album debuted at the number four spot on the US Billboard 200 chart, demonstrating his continued success and influence within the hip-hop community.
In conclusion, these songs and albums, "Make 'Em Say Uhh!", Ghetto D, MP Da Last Don, and Only God Can Judge Me, represent key moments in Master P's career and showcase his ability to create memorable music with a lasting impact in the hip-hop genre.
Miscellaneous Topics
Master P's journey is filled with various experiences and achievements that influence his perspective on life. One notable accomplishment was when he signed a distribution deal with Priority Records. This groundbreaking deal allowed him to maintain ownership of his music and leverage the backing of a major label for distribution. This strategic move demonstrated Master P's business acumen and provided a blueprint for independent artists in the future.
In an interview with The New York Times, Master P shared his thoughts on staying motivated. He said, "Work hard and never make excuses." This quote highlights his perseverance and determination to overcome challenges, even in the face of adversity. Master P's humble beginnings in a crime-ridden neighborhood, surrounded by the notorious Crip gang, further emphasize the importance of hard work and seizing every opportunity to improve one's circumstances.
Master P is also known to venture into various businesses outside of music. One example is his foray into the culinary world, where he developed his own line of "Rap Snacks Popcorn Shrimp." This extension of his brand is not only an innovative approach to connect with fans, but also a testament to his entrepreneurial spirit and ability to seize market opportunities.
In addition to his business ventures, Master P has also made appearances in television shows, such as "Linc's." This demonstrates his versatility and willingness to explore different avenues for self-improvement and personal growth. His multifaceted career serves as a source of inspiration for those looking to achieve success in various fields.
Through these diverse experiences and accomplishments, Master P's quotes provide valuable insights on motivation, power, business, and investment. His confident, knowledgeable, and clear perspective make these quotes a powerful source of wisdom and inspiration for anyone seeking guidance or advice on their own journey to success.