The makeup industry is one of the most lucrative in the country. It continues to grow and evolve, creating new opportunities for entrepreneurs to build new businesses. It is now possible to launch a makeup business in a brick-and-mortar space or in the virtual sphere. Either way, your aim will be to sell high-quality beauty products to the people who want them.
Types of Businesses in the Makeup Industry
If you are to succeed in the makeup, or cosmetic industry, you must build a brand. And the best way to build a brand is to become known for delivering a type of product or line of products. This will make it easier to find a target audience and appeal to their specific preferences. It will also allow you to gain efficiencies and become cost and price competitive. Here are some of the makeup lines you may want to focus on:
1. Traditional products
This category is composed mostly of blushes, lipsticks, eyeliners, mascaras, foundations, and eyeshadows. Each of these items comes in a wide variety of colors and compositions. If you get into this product line, the best way to make yourself stand out from other makeup companies is to create themed collections or add some other interesting twist that will get attention.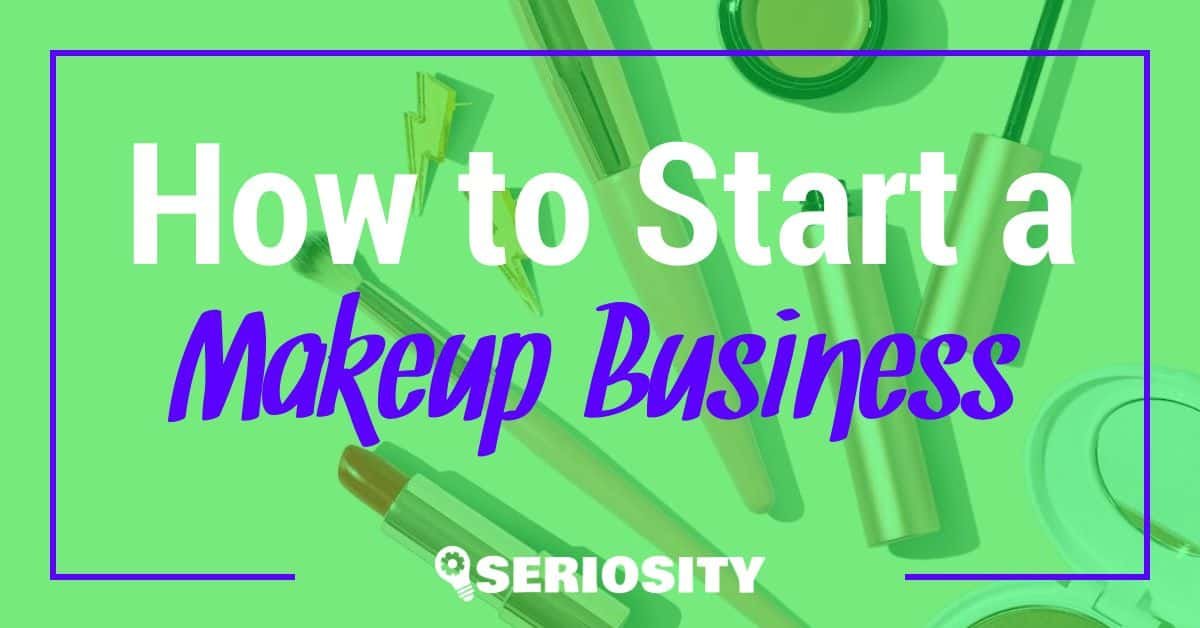 2. False lashes
This has been a major trend in cosmetics. They are relatively easy to sell as they do not require much product development. You can order ready-made false lashes from a supplier and package and sell them using your own branding. You can sell them from your own shop or to other makeup retailers and drugstores.
3. Body makeup
The purpose of body makeup is to cover up blemishes on the body, even out skin tone, and create a luminous and glowing appearance. It is quite similar to the concealer and foundation that many women use on their faces and can be marketed and retailed in a similar fashion.
4. Organic makeup
This is a great and growing market in the industry. More and more women have come to demand beauty products that are made of completely natural ingredients. If you have the technical training, you should consider creating your own plant-based makeup products. If not, you can contract with a company that does and package and market the final products yourself.
Steps to Starting Your Makeup Business
Once you have figured out which products or product line you want to pursue, you will be ready to get your business up and running. Here are some of the steps you will need to take:
1. Create a business plan
You will first need to develop a business plan. This is an outline of what you will sell, whom you will sell it to, and how you will go about selling it. Your business plan is crucial, as it will be your primary reference point when pitching for partnerships, loans, grants, and investors. It should include the following:
Company overview
Market research analysis
Legal structure
List of beauty products and their descriptions
Overview of your sales and marketing strategy
Financial analyses, forecasts, and outlook
Your plan should be well thought out and include minutiae such as how much inventory you intend to hold and what your ordering and shipping process will look like. You want to show potential investors that you know what you are doing and understand the basics of running a business.
2. Get funding
To start trading, you will need capital. This is not as hard as you may think. You can take out a business loan from your bank. You should also check out the many options offered by the Small Business Administration.
You can also get financing through an investor. You will need to determine whether you are more comfortable with a hands-on business partner or a silent partner. In the latter case, you will need to convince them that they are making a sound investment; that they can trust you to produce more than adequate returns on their money. The more experience and competence you are able to show, the more likely you are to attract silent investors.
Startup costs vary for a makeup business. However, there are a few basics you will have to pay for no matter what. Forming a limited liability company (LLC) will cost you $125. You will also have to pay for branding and website development, product development, packaging, warehousing, and marketing.
3. Get your legal house in order
Although you may not need to hire a lawyer at this point, you should ensure that your business is properly registered. In most cases, forming an LLC will meet this requirement. Remember, your business is a separate legal entity. If any accident occurs involving your company, you want to make sure you are protected as an individual.
You will also need to acquire a tax identification number for your business. This is known as an employer identification number (EIN).
All makeup products you sell must be approved by the Food and Drug Administration (FDA). You should visit their website for specific guidelines on labeling the products you sell.
4. Build your brand
Think of your brand as the personality of your business. Like you, or any other individual, it should be unique and easy for people to relate to. You must build your brand to connect with a target audience. You want the distinct image and voice of your stand out on social media, your website, and your packaging.
5. Develop your product
You must work out the details of your product packaging. Everything about the items you sell—sizes, colors, textures—should be thoroughly developed in this phase. Pay close attention to the materials and ingredients that are in your makeup products. You must also figure out the pricing. You will probably want to offer a number of discounts and special deals when you start trading. It is unwise to charge high prices before you have established a reliable customer base.
6. Test your products
As part of product development, you should pull out samples of your products so that you can test them. This will ensure the size, color, and texture of your products are what they should be.
7. Design your storefront
If you plan to sell your products in a physical space, you will of course need to get the right signage and other branding material. You will also need to establish a presence online. You will need to create a virtual storefront in the form of a website. It should be easy for visitors to search, sort, and filter through your site to find what they are looking for.
In this digital space, you must use a secure paywall so that people are comfortable sharing highly sensitive information. Adding payment features such as PayPal will increase your popularity among customers, as this has become a more common way to pay for things online.
8. Create a marketing strategy
To sell products, you must create an effective sales strategy. You should pursue an aggressive online digital marketing campaign. Here are some of the specific tools you want to put in place:
Paid ads: You should run targeted advertisements on Facebook, Twitter, Instagram, and YouTube
Social media marketing (SMM): You will need to create engaging content to build a community of followers, many of whom will become paying customers
Search engine optimization (SEO): This is the art and science of driving Internet users to your website using certain keywords and phrases
Influencers: You will need to hire people who already have large social media followings to discuss and promote your products on their online channels
In the end, good marketing speaks to the values, preferences, and needs of your target audience. It also meets them where they are. At some point, you will need to determine the platforms that are most effective in reaching the people most likely to purchase your products.
9. Launch your makeup products
Once you have all of the above in place, you will be ready to launch your product line. Be sure to build up excitement and anticipation for your grand opening. This is key to good sales on launch day.
The bottom line here is to make the launch of your makeup business into an event. To do so, you will need to get the buzz going online. You should also offer a range of special deals and discounts to get people in the door.