Episode 303 of the Shark Tank featured Megan Cummings' You Smell Soap product. This product was born during Megan's research in presentation and packaging during a college course. Cummings had started her product from humble beginnings into a high-end luxury item that she expected to sell if she could secure a Shark deal that provided the contacts and funds she needed.
She started the business with her fiancé. They had difficulty keeping up with the business because they both worked full-time. Cummings was a full-time graphic designer; however, she dreamed of quitting her day job to run her own soap company.
Cummings sought a $55,000 investment from the Sharks for a 20% stock share. It was a pre-venture, meaning that she did not yet have actual sales data in hand. She used to send out the testing samples of her two perfumes, lavender mint, and lemon.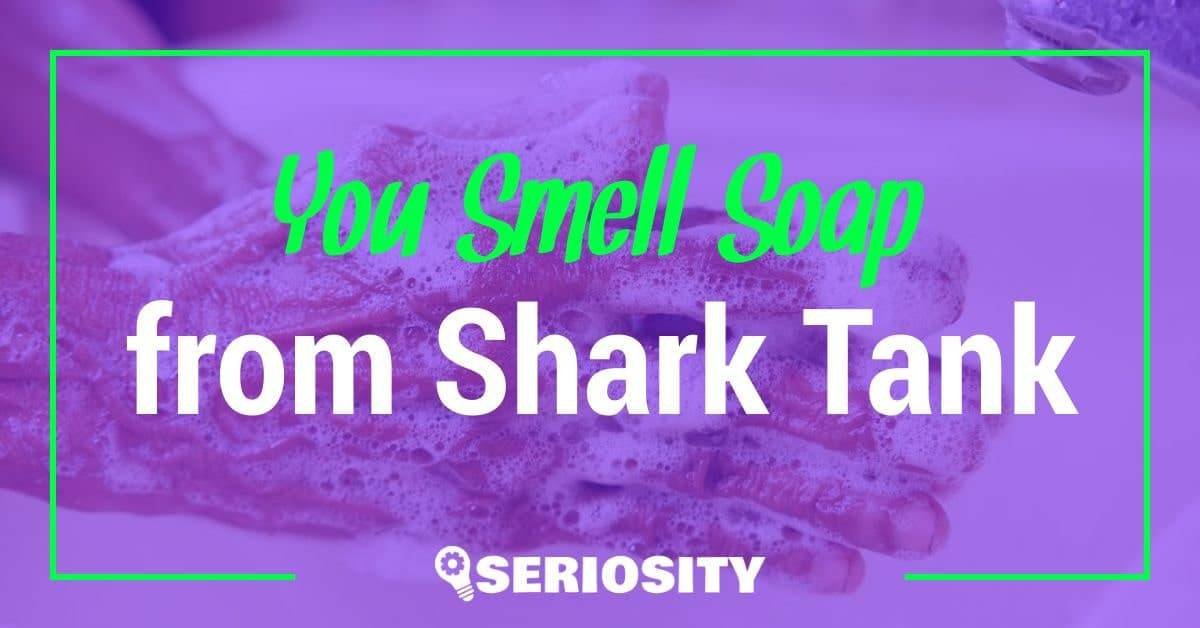 Cummings manufactured 1,200 bars and circulated them to various stores. These stores sold the product for $7 to $12 a bar to test the market. Several retailers were open to reordering. Assuming her products fit Shark's requirements, the brand appeared to have a good foothold in the market.
Additionally, Cummings offered a dissolvable paper with soap that buyers could use to freshen up. Sales margins were good. The innovative companion product could assist boost brand recognition as well. The Sharks were impressed.
Daymond said he admired the perseverance but was not interested in getting into this industry. Therefore, he was out. Kevin O'Leary admired Cummings and wished her success, but he believed the danger was too significant without instructions in hand for her to go further.
Mark Cuban wanted to see if Cummings had the resolve to see the project through. Cummings said she's a highly determined person and vowed to make her venture a success. He made an offer of $55,000 for 20% stakes in the company.
Barbara Corcoran jumped in with an offer before Cummings had a chance to answer. She said that Cummings was for too little. Corcoran wanted 40% of every bar and 10% royalty.
Robert Herjavec joined in and put forth a third proposal. He was ready to pay her $55,000 in exchange for a 20% stake and an additional $50,000 income so that she could dedicate her time to the company. Listening to this offer, Corcoran changed her mind and offered $55,000 for a 30% stake. In the end, Cummings accepted Herjavec's offer.
However, things took an unexpected turn. Shark Tank may not be as it looks on television. Despite the purchase on the air, Cummings was never given the promised money. Cummings rejected a second offer from Herjavec in which he wanted 50% of her company.
Herjavec was slammed in the media after the agreement went sour. When Cummings was caught on tape claiming to be a pre-venture company, he replied by using the due diligence procedure as an explanation.
Despite the contract falling through, she proceeded to enlarge her company anyhow. It was a full-time job for the couple to run You Smell. The product was commonly available on Amazon. However, the site had become defunct. Megan sold her company in 2014 to an unknown investor for a mysterious sum. However, it did not work out well in the investor's favor as the company went bankrupt after two years.
Megan founded Sparklepop, a jewelry brand, in 2014 and had immediate success. However, after five years, she had to shut it down in 2019. Then, she launched Downloads that Donate, an Etsy shop. Her other business was Megan Cummings Designs, a contract design firm she has been running since 2007.
Our Review of You Smell Soap
The fragrance company You Smell made organic luxury soaps in the form of foam using only the finest materials. Since you usually need paper wipes to freshen up when you're on the run, the company offered them along with the fragrant soap. Lemon Verbena and Lavender Mint were two of the scents you could discover in their goods.
The soaps were aromatic and had shea butter and olive oil naturally rich in vitamins. This vegan and gluten-free soap contained no parabens or phthalates and had an unsurpassed level of softness that can only be achieved using a handcrafted soap bar. These products were meticulously wrapped to create vintage-inspired conversation starters.
The You Smell Soap Company shipped premium soaps to several retail locations worldwide for testing purposes. Urban outfitters sought after their goods since they were a well-known firm with many locations from which they could sell their soaps.
You Smell Paper Soap was a new creation that was practical and simple to use. You could keep them in your pocket or handbag. A bar of soap would cost about $.80 and retail for $2.25. Smells like Lemon Verbena and Lavender Mint were used in You Smell Soap. It was made with organic materials and carefully-crafted scents.
Pros
You Smell Soap had a lot of intriguing tidbits, including the following:
Glowing skin
Hydrated skin for a long time.
Usage of organic elements
Ingredients grown in a natural environment
Pleasant aroma
Cons
Soaps weren't readily available.
Some users complained of dry skin.
Who is it Best For?
You Smell Soaps were made explicitly for HER – women who went out in the scorching heat and needed an aromatic soap to keep them fresh and their skin hydrated. Moreover, it was also for those with sensitive skin prone to acne or severe reactions to chemicals. This organic soap would soothe their skin and protect it from the harmful effects of chemicals. You Smell was the perfect fit until it went out of business.
Are There Any Alternatives?
Dove Beauty Bar is one of the best alternatives to You Smell Soaps. These bars can be used regularly to cleanse, exfoliate, and hydrate the skin. They are relatively cheaper and work wonders on the skin.
Our Final Thoughts
You Smell Soaps were hydrating, aromatic, and naturally made to cater to the skin problems of HER. This company took off despite experiencing a scam from one of the Sharks. However, things went south, and the owner had to sell her company for good.