Steve Harvey, a charismatic and multifaceted entertainer, has amassed significant wealth throughout his career in television, comedy, and other ventures. As of July 2023, his net worth is estimated to be around $200 million, which can be attributed to his various roles in the entertainment industry. Born on January 17, 1957, the 66-year-old's journey to success has not always been smooth sailing, but he has managed to build an impressive media empire despite the challenges.
Besides being the beloved host of the game show 'Family Feud', Harvey has showcased his talents as an actor, author, and producer. His annual salary is reported to be around $45 million, showcasing the extent of his success and financial prosperity. Harvey's illustrious career has spanned over three decades, and his influence in the entertainment world is still prominent today.
Early Life and Education
Broderick Stephen Harvey, or Steve Harvey as we know him, was born on January 17, 1957, in Welch, West Virginia. Harvey grew up in a close-knit family with three siblings, Terry Harvey and sisters, Pauline Harvey and Mona Harvey.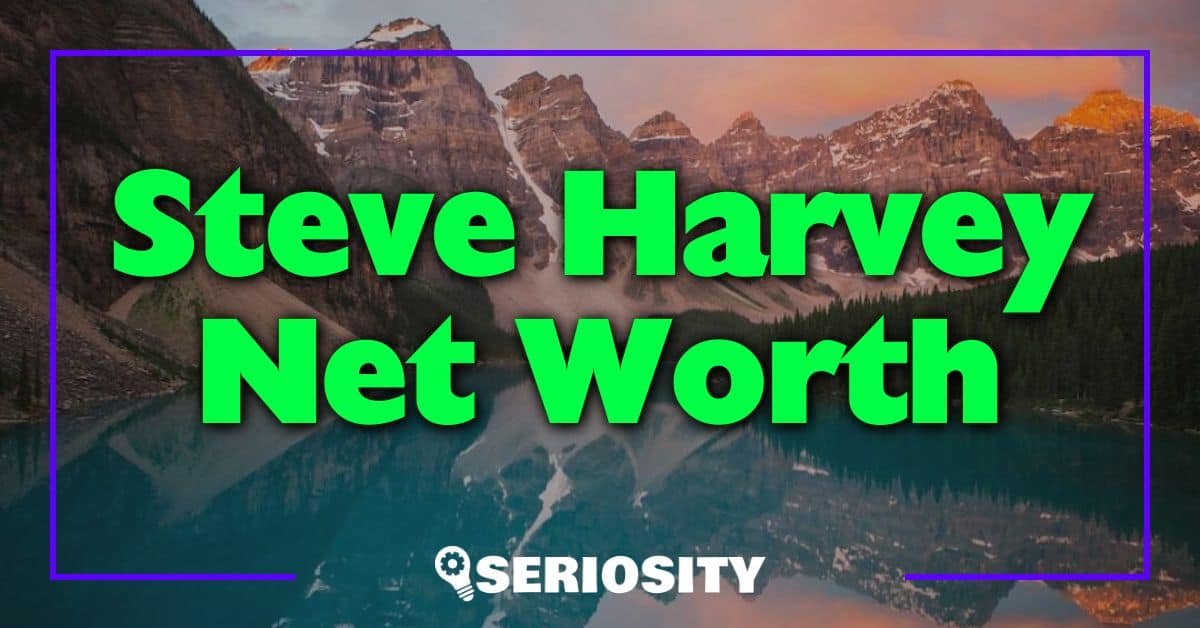 He completed his early education at Glenville High School located in Cleveland, Ohio which is also where his family relocated to. After graduating from high school, Steve pursued higher education and attended Kent State University. Later, he transferred to West Virginia University, before eventually moving to Los Angeles to start his career in the entertainment industry.
Career Beginnings
Steve Harvey began his career as a stand-up comedian in the early 1980s. He first started performing at local clubs and eventually landed a gig at Hilarities Comedy Club in Cleveland, Ohio. He honed his skills through years of practice, and his charismatic personality and keen sense of humor soon captured the attention of audiences across the country.
In 1990, Harvey participated in the Johnnie Walker National Comedy Search, which ultimately led to his breakthrough in the entertainment industry. His impressive performance in this competition earned him a hosting job on the popular TV show, Showtime at the Apollo, in the early 1990s.
Showtime at the Apollo was a renowned talent show based at the famous Apollo Theater in Harlem, New York. As the host, Harvey played a crucial role in showcasing the talents of aspiring comedians, singers, and musicians from diverse backgrounds. His tenure on the show, which lasted for several years, catapulted his career to new heights and helped establish him as a respected figure in the world of comedy.
Television and Film Success
Steve Harvey's career in the entertainment industry spans over three decades, with a significant portion of his success coming from his work in television and film. One of his prominent roles was as the star of The Steve Harvey Show, a sitcom that aired from 1996 to 2002. Harvey played a high school teacher and mentor, working alongside his friend and fellow comedian, Cedric the Entertainer.
In addition to his work on The Steve Harvey Show, Harvey took on various film roles during the early 2000s. He co-starred in the 2003 movie The Fighting Temptations with Cuba Gooding Jr. and Beyoncé Knowles. He also appeared in the romantic comedy Love Don't Cost a Thing in 2003, starring alongside Christina Milian and Nick Cannon.
Keeping his focus on television, Harvey made a guest appearance on the 1994 sitcom Me and the Boys, which starred comedian Steve Harvey and Madeline Kahn. In addition to his acting work, Harvey built an impressive resume as a game show host. His charismatic and energetic hosting duties on shows such as Family Feud have contributed significantly to his overall net worth.
As a result of his successful career in both television and film, Steve Harvey's net worth in 2023 is estimated to be approximately $200 million. His ability to diversify his talents across various entertainment mediums has played a crucial role in solidifying his status as a prominent figure in the industry.
Game Show Host and Radio Personality
Steve Harvey is a well-known and successful game show host, particularly known for hosting the popular show Family Feud. His charming and captivating style as a host has played a significant role in increasing the show's popularity and has contributed to his growing net worth, which stands at $200 million.
In addition to Family Feud, Harvey also hosts Celebrity Family Feud, a spin-off of the original show featuring high-profile personalities and their families. His hosting abilities have earned him recognition and financial success, with reports suggesting that he makes about $10 million per year from hosting Family Feud alone.
Steve Harvey is not only a game show host, but he also has a strong presence in the radio industry. He hosts the nationally syndicated radio show, The Steve Harvey Morning Show, wherein he discusses a variety of topics, including entertainment, news, and relationship advice. The radio show has helped expand his reach and influence, and it is reported that he earns around $20 million annually from his radio gig.
Though his success as a game show host and radio personality has significantly contributed to his wealth, it is essential to recognize that Steve Harvey has also ventured into other fields like standup comedy, acting, and entrepreneurship. Overall, Harvey's diverse career has played an influential role in accumulating his impressive net worth.
Kings of Comedy Tour
The Kings of Comedy Tour was a groundbreaking comedy event that featured four of the most prominent African American comedians at the time: Steve Harvey, Cedric the Entertainer, D.L. Hughley, and Bernie Mac. Launched in 1997, the tour travelled across the United States, breaking records and garnering widespread acclaim.
Steve Harvey served as the host and master of ceremonies for the tour, introducing his fellow comedians and providing his own stand-up act during the show. His unique humor and charisma gained him further popularity and contributed to his ongoing success, which has helped build his impressive net worth.
The Kings of Comedy Tour turned out to be a major success, generating a total of $19 million in revenue in 1998. This made it the highest-grossing comedy tour in history at the time, thanks to the combined talents of the four comedians.
Cedric the Entertainer, D.L. Hughley, and Bernie Mac all shone in their individual performances, leaving lasting impressions on audiences across the country. Each of them contributed their own unique style and voice, making the Kings of Comedy Tour a diverse and unforgettable experience.
The tour's impact even led to a film adaptation, titled "The Original Kings of Comedy," which was directed by Spike Lee and documented the comedians' performances during the tour. Released in 2000, the film was well-received, further cementing the tour's place in comedy history and boosting the careers of all four comedians.
In summary, the Kings of Comedy Tour played a significant role in not only the careers of Steve Harvey, Cedric the Entertainer, D.L. Hughley, and Bernie Mac but also in the landscape of comedy entertainment. By generating record-breaking revenue and becoming a cultural phenomenon, the tour has left a lasting legacy that continues to inspire comedians and audiences alike.
Books and Authorship
Steve Harvey is a successful author who has written multiple books over the span of his career. One of his most popular books is Act Like a Lady, Think Like a Man, published in 2009. This book is a self-help guide that offers advice for women seeking to understand the male perspective in relationships. Harvey's candid perspective and practical advice have resonated with readers, making this book a best-seller and solidifying his position as an accomplished author.
In addition to his most famous work, Harvey has authored several other books that focus on improving one's life and relationships. His writing often conveys the same confident, knowledgeable, and clear tone that we have come to know and appreciate from his television and radio appearances. Notably, some of his other books include:
Straight Talk, No Chaser (2010) – A follow-up to Act Like a Lady, Think Like a Man, providing more insights into men's minds and how women can navigate relationships with them.
Jump (2016) – This book offers inspiration and motivation for taking risks and pursuing one's passions in life.
Act Like a Success, Think Like a Success (2014) – Focused on personal growth and achieving one's goals, this book shares the principles and strategies Steve Harvey used to build his own success.
Besides his books, Harvey also contributes his knowledge and experience to other platforms, such as his popular radio show and the Steve Harvey Morning Show. Through these mediums, he continues to provide valuable advice to his followers. The success of his books and additional endeavors has contributed significantly to his net worth, demonstrating the power of his expertise and relatability as an author.
Philanthropy and Foundations
Steve Harvey is not only known for his successful career in entertainment but also for his philanthropic efforts. He has been actively involved in charitable work alongside his wife, Marjorie Harvey, to give back to their community and support various causes. One of the significant entities that showcase their commitment to philanthropic endeavors is the Steve and Marjorie Harvey Foundation (SMHF).
The SMHF aims to provide youth outreach services by cultivating the next generation of responsible leaders. The foundation focuses on youth education and offers programs such as mentoring, educational enrichment, mental wellness support, life transformation skills, and global service initiatives. It strives to be a change-agent by fostering excellence in the areas of education, health, and social well-being in urban and diverse communities.
Some notable events organized by the foundation include the 2-Day Charity Golf Invitational and Girls Who Rule The World Virtual Meet Up. Furthermore, the Harvey Foundation has also surprised 25 non-profit organizations with financial grants, showcasing their dedication to support various causes and uplift communities.
In addition to the foundation, Steve Harvey supports other charitable organizations like the NAACP. With his impressive net worth and influence, it is commendable to see Harvey invest in philanthropic activities for the betterment of society, particularly in the areas he is passionate about, such as youth education and empowerment.
Personal Life
Steve Harvey has been married three times, and his current wife is Marjorie Harvey. They tied the knot in 2007, and together, they have established a strong bond despite various challenges. Marjorie Harvey plays an essential role in Steve's life, continuously supporting him in his personal life and career endeavors.
In the context of children, Steve Harvey is a father to seven biological children. From his first marriage to Marcia Harvey, he has three children: twin daughters Brandi and Karli, and a son named Broderick Jr. He also has another son named Wynton from his second marriage to Mary Shackelford. After marrying Marjorie Harvey, Steve became a stepfather to her three children: Jason, Lori, and Morgan.
Their family is not only large but close-knit, and they often spend quality time together at various events and vacations. The Harveys place high importance on maintaining a strong family bond amidst their busy lives.
As a grandfather, Steve Harvey embraces the role with joy. His children have blessed him with several grandchildren, and he often shares photos and stories of his time with his grandchildren on social media.
In summary, Steve Harvey's personal life revolves around his beautiful family, composed of his wife Marjorie, his biological children, stepchildren, and grandchildren. Together, they form a loving and supportive unit that plays an integral part in Harvey's life and success.
Business Ventures and Endorsements
Steve Harvey, with an estimated net worth of $200 million, has been successful not only in the entertainment industry but also as a businessman. His diverse portfolio of business ventures and endorsements contributes to his impressive wealth.
One of his primary business entities is Steve Harvey Global. This company oversees his various ventures, including television shows, radio shows, podcasts, and his successful dating website, Delightful.com. The organization also manages his numerous best-selling books and signature clothing line, which further bolsters his income.
As an avid investor, Steve Harvey ventures into various sectors, such as real estate, startups, and the stock market. Particularly noteworthy is his interest in the growing technology market, which includes investments in cutting-edge crypto and NFT markets.
Harvey also has several high-profile endorsements under his belt. He has partnered with renowned brands such as T-Mobile and Green Dot, allowing him to reach an even broader audience, and further strengthen his income streams.
In addition to his business ventures, Steve Harvey is known for his philanthropic efforts. One notable event is the Sand and Soul Festival. This annual event, hosted by Harvey himself, combines entertainment, relaxation, and charity elements in a luxurious beach setting. Attendees can enjoy live concerts, engaging discussions, and fun activities, all while contributing to the Steve & Marjorie Harvey Foundation's initiatives to support education and mentoring programs for young people.
In summary, Steve Harvey's diverse and successful business ventures, coupled with smart investments and lucrative endorsements, have played a significant role in building and maintaining his substantial net worth. His commitment to philanthropy, exemplified by events like the Sand and Soul Festival, adds to his overall positive impact.
Awards and Recognitions
Steve Harvey, a celebrated comedian and television host, has received numerous awards and recognitions throughout his illustrious career. Notably, he is a four-time winner of the NAACP Image Awards for Outstanding Actor in a Comedy Series (1999, 2000, 2001, 2002), which celebrates the accomplishments of people of color in the fields of television, music, literature, and film.
Additionally, Harvey has been honored for his achievements in hosting. He has received multiple Daytime Emmy Awards nominations and won Outstanding Talk Show Host in 2014 for his critically acclaimed talk show, "Steve Harvey." This award recognizes excellence in daytime television programming and regularly highlights the achievements of hosts, producers, and writing teams.
Beyond these impressive accolades, Harvey is also recognized as one of the Original Kings of Comedy. This 2000 American stand-up comedy film directed by Spike Lee showcased four prominent African-American comedians, including Steve Harvey, D.L. Hughley, Cedric the Entertainer, and Bernie Mac. The film was both a critical and commercial success and significantly bolstered Harvey's national profile within the entertainment industry.
In further acknowledgment of his widespread influence and impact on the entertainment world, Harvey was honored with a star on the iconic Hollywood Walk of Fame on May 13, 2013. This prestigious landmark recognizes the achievements of those who have made significant contributions to the world of entertainment and immortalizes them in a tangible and lasting manner.
In summary, Steve Harvey's career has been met with numerous awards and recognitions, testifying to his talent and influence in the entertainment industry. Some of his most notable achievements include his multiple NAACP Image Awards, Daytime Emmy Awards, his role within the Original Kings of Comedy, and his star on the Hollywood Walk of Fame.
Steve Harvey's Net Worth
Steve Harvey, a renowned comedian, businessman, and Award-winning show host, boasts an impressive net worth of $200 million. He became nationally famous as a stand-up comedian, and his multifaceted career has contributed to his financial success. Known for his engaging and charismatic personality, Harvey has cemented his place as a millionaire in the entertainment industry.
In addition to Steve Harvey's work as a comedian, he has built a name as a game show host, writer, producer, and film actor. One of his most notable hosting roles is in the popular game show Family Feud, where he continues to captivate audiences with his wit and charm. Harvey's endeavors in television, film, and radio significantly contribute to his net worth.
His successful career extends to various ventures, including The Steve Harvey Morning Show. This nationally syndicated radio program helps Harvey maintain a strong presence in the public eye. Furthermore, he channels his efforts into philanthropy through the Marjorie Harvey Foundation, which supports a variety of causes and initiatives.
While Steve Harvey's net worth stands at an impressive $200 million in 2023, it's important to note that his journey has not always been sunshine and rainbows. In his early years, he faced hurdles and struggled to find stable footing in the entertainment industry. However, his unwavering determination and talent ultimately led him to financial success, making him a multi-millionaire and an icon in the field of comedy and entertainment.