SalesPreneur is the brainchild of Dave Greco. Dave is an expert sales professional. When he was 5 years old, he used to sell pencils out of his parents' house, for 10 cents a piece, to his neighbors.
SalesPreneur is a system which is developed to help sales professionals in any industry to sell their product and get in front of their clients.
What Do They Do?
The system consists of two critical components: MiSSiLe and RoadMapp.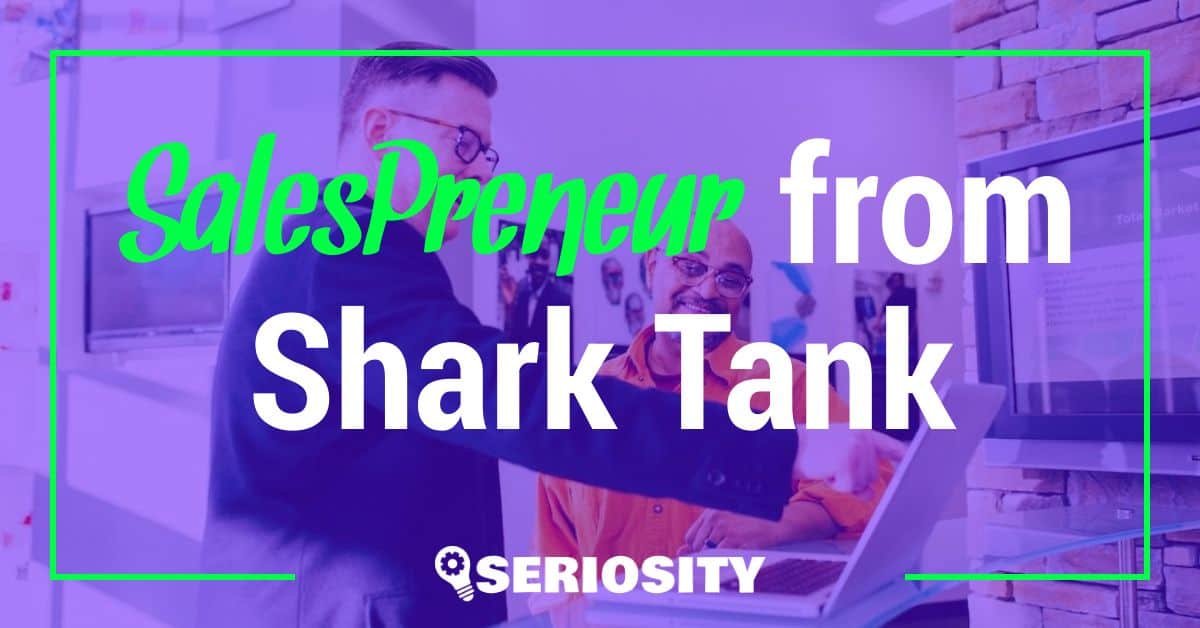 MiSSiLe is a razor-sharp step-by-step system that can teach you how to find and get in front of the original buyer and what to say to them to sell your product or idea.
RoadMapp is an industry-specific guide that teaches how to frame your pitch to your audience once you are in front of them.
What Makes Them Unique?
Dave Greco created the SalesPreneur system to help people learn how to sell. He believes that his system can get anyone in front of the real decision-maker, who can make the purchase.
Are They Still an Active Company?
The domain TheSalesPreneur.com is for sale at HugeDomains.com. The Facebook and Twitter accounts of SalesPreneur and Dave Greco have been inactive since 2014.
How Did the Shark Tank Pitch Go?
Dave entered the show seeking $90,000 for 40% equity in his business. He told the Sharks that he can sell anything to anyone and that he has always hit his quota.
He has been in the top 2% of every firm and has won every sales performance award while working for them.
Dave explained his SalesPreneur system to the Sharks. The system consists of two components, MiSSiLe and RoadMapp, and he believes that it can teach anyone to sell effectively.
The system is successfully deployed in several companies and now Dave wanted to sell his system through a downloadable mobile application.
Kevin interrupted him by saying that Dave claims to sell him the idea that he can make anybody into a great salesman. Dave agreed to it and said that he was on the show to close his own deal and was open to answering any questions that the Sharks had for him.
Kevin inquired about his sales. Dave answered that he has made $40,000 in the last 3 months. His system was used in five organizations,  three of those organizations were Fortune 300 companies.
He explained his business model. Dave or somebody from his team would go out and teach the system to the buyers and then sell them the printed booklets that contain instructions and a walk-through of the system.
Robert commented that he had 3 Fortune accounts but he only sold $40,000 between them.
Mark wanted him to break down his typical sales procedure. Dave clarified that the books are sold per seat to 10-20 people. The sales reps buy the books and the corporations buy the system for their people.
Kevin asked him if David can make a company increase their sales by 40%, why he hasn't already sold his system to thousands of them. Mark defends him by saying that David has only been in business for 3 months.
David revealed that he is deployed in one of the largest insurance companies in the world, MetLife. Metlife bought 140 units at $295 per piece. Now David wants to take the company to another level and introduce a mobile application as well as a video game.
Robert was curious why he hasn't made more sales with MetLife. Metlife has over a hundred thousand salespeople and he should have been truly integrated with the company. David said he wanted to make a mobile application instead because it is a predictive cash flow, and through that, the lifetime value of a customer can be measured.
He mentioned that he has trademarked and copy-written all of his material. He had a company in Boston, a small setup, that just got their second round of funding and the sales increased from $30 million to $60 million dollars. Robert wanted to know how he did all of that in 3 months, and David replied that he should partner with him to find out.
Daymond gave him a pen and asked David to sell it back to him. David instead kept pitching his own system, which annoyed Daymond and made him leave the Tank.
Robert believed that David could sell, but he still wasn't convinced with the mobile application idea. David told him that they had a production company ready and willing to produce the mobile app, and he mortgaged his house to invest the money in that company. Robert believed in his potential but wasn't impressed by his vision of a mobile application for the SalesPreneur system. He was out.
Kevin said that there is a huge risk in getting his money involved in Dave's company, he went out as well.
Mark asked him if he would offer $90K for 40% equity, would he say yes to him right away. Instead of accepting his offer, David asked if there was another offer on the table and looked at Barbara.
Barbara thought he was going too fast, he should stick to his system rather than going for a mobile application. She went out.
David looked back at Mark now, and Mark announced that he just taught America the biggest mistake salespeople make. He had the chance to close a deal, but instead, he diverted all his attention to keep on selling his product and getting validation from other people in the room. He took Mark's deal for granted and blew the whole deal. Mark wasn't seeking any response from him anymore and he went out as well.
Our Review of SalesPreneur
David had a great concept and his system could have helped thousands of people all around the world learn how to sell their products and ideas.
Pros of SalesPreneur
Being the first and only creator of such a system would have proved to be a booming business for David.
Cons of SalesPreneur
David proved to be a bad salesperson himself as he made a terrible mistake of not closing the deal with billionaire, Mark Cuban, on a national TV show.
Who Is SalesPreneur For?
David was confident that he could even train a C-performer with a solid work ethic. He claimed his system will help that salesperson close more deals than even the smartest salesperson in the room since great sales performers are trained, and not born.
Are There Any Alternatives?
There is yet no other software or mobile application in the market that claims to help teach people how to sell.
Our Final Thoughts
David was very passionate about his business but went too far with his overconfident but bland pitch, and it served him a tremendous loss by losing a deal with the most powerful Shark, Mark Cuban.