Rescue Ready is the passion project of two experienced firefighters from Virginia, Brett Russell, and Eric Hartsfield. The two professionals are fully equipped with the knowledge of fire hazards, and their extensive training in rescue situations made them realize just how common it was for people to get stuck on the upper floors of a building during a fire without any reliable escape tools. Most people use commonly available retail ladders that are incredibly hard to retrieve in a room filled with smoke, and heat and the visibility is decreasing rapidly. The duo realized this major issue and sought to bring a solution for it to the market through their product called Rescue Ready.
Rescue Ready is a ladder extension that can be attached to your residential or commercial windows. These ladders are made of aluminum and nylon webbing and can easily support up to 750 pounds of weight. The most important aspect of the product is its ease of use. People stuck in a room can easily deploy the ladder on their own and escape a burning building with ease. The ladders exceed the international ASTM standards and are structurally anchored to the house to ease any fears about perfectly deploying the escape ladder.
Rescue Ready continues to be in business despite hitting some roadblocks related to supply chain issues. The business also listens to feedback and continues to alter its product for better quality. With better exposure, the company could take off as the product itself is an innovation that can help avoid tons of unnecessary deaths.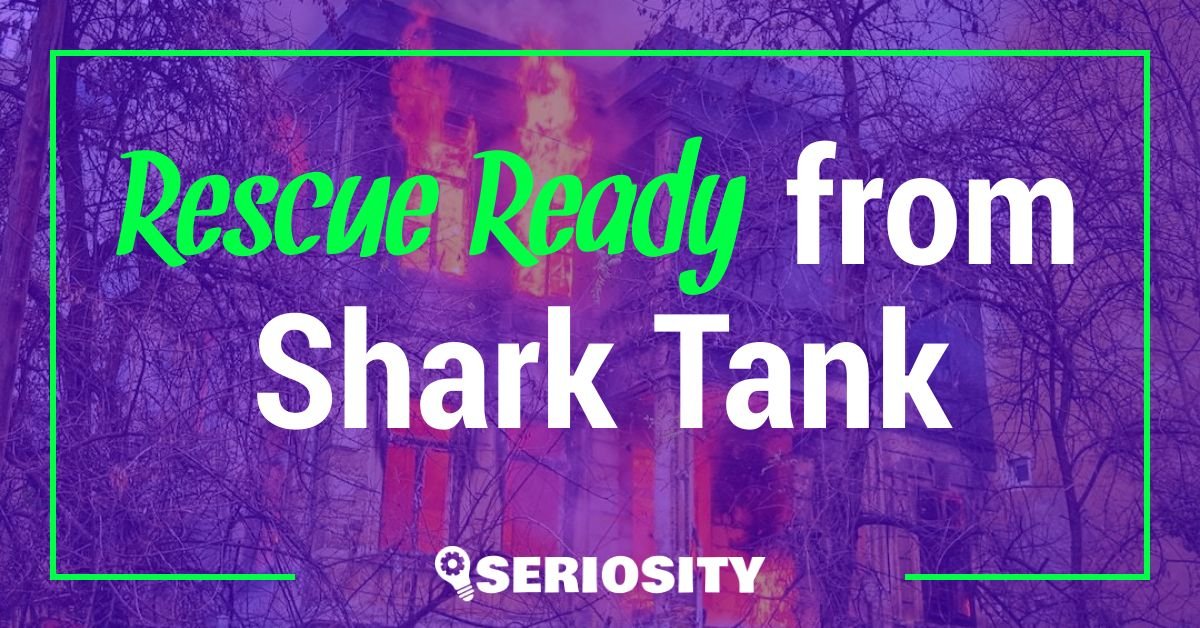 How Did The Shark Tank Pitch Go?
Russell and Hartsfield introduced their firefighting background to the Sharks to start their pitch. This caught the interest of the Sharks, and they listened with attention as the firefighters elucidated the problems faced by people when stuck in a burning building. The tone of the pitch was educational, and the Sharks respected the entrepreneurs' backgrounds. The firefighters asked for $75,000 for 15% equity in their company.
The duo emphasized just how difficult it was to escape when stuck in a building on fire. People have to deal with smoke inhalation, toxic gases, increasing heat, and decreasing visibility. In circumstances like these, deploying an escape route is incredibly difficult, especially when panicking. Their product Rescue Ready was designed keeping all these factors in mind. It can be attached to windows and is easy enough to use even for children.
The duo further highlighted their point by carrying out a demonstration. They asked for two volunteers from the Sharks. Barbara Corcoran and guest Shark Rohan Oza volunteered to carry out a simulation in which they were stuck in a burning building. Both the Sharks were given goggles that replicated the visibility one has while in a room filled with smoke. Oza was given a conventional ladder while Corcoran had to deploy the Rescue ready ladder. The firefighters even put extra stuff in the room to simulate a real-life situation in which a person would have to find a ladder in a burning building. The demonstration successfully showed that Rescue Ready ladders were far safer and convenient than regular escape ladders.
The Sharks were impressed by the product's function, but they had some major concerns about the business side of it. They asked if the product was on the market and the duo declared that they were new to the entire business and needed a Shark's expertise to guide them. The primary problem the Sharks had was whether the company could convince window manufacturers and installers to add these ladders to their products and increase the overall cost. The duo insisted that the product would be in demand specially by parents who would like to ensure the safety of their children. The Sharks were still not convinced and believed that the window companies would be too interested in their bottom line to change their operations for Rescue Ready completely.
Mark Cuban was the first to drop out of negotiations. He congratulated the duo on the product, but he envisioned there to be a long process for the business to establish itself, and he did not want to be a part of it.
Corcoran thought the product was useful but had suggestions where they could altogether bypass the windows so that they would not have to deal with the window companies. Despite all this, she could not envision the product completely working out, so she declined to make an offer.
Lori Greiner and Kevin O'Leary both believed that they were not ready to invest in a business that completely in its nascent stages so they also could not put any offers on the table. This left the duo with Rohan Oza. He loved the product but could not form a partnership as the company had yet to talk to any window companies to see whether the business had major potential.
The firefighter left their pitch without a deal. The Sharks lamented that the product had potential and the pitch had been brutal
Our Review of Rescue Ready
Rescue Ready is a product that is designed keeping fire hazards in mind, and it should be promoted as it is essential for homes and buildings being constructed. However, the design and the real estate market's focus on their operations and profit margins truly restrict the product's potential. The product has merits and demerits that should be considered when planning to install one in your building.
Pros of Rescue Ready
The ladders are lightweight and durable
Can hold up to 750 pounds of weight
Anti-slip rungs are installed so that the escapees do not fall off in panic
You can determine the height of the ladder according to your building
Cons of Rescue Ready
Major supply chain issues has seen a lot of customers not getting their product despite placing orders
Plastic covering can be slippery
Who Is It For?
Rescue Ready is a product that is not retail as it needs to be installed. However, it is mainly targeted toward homeowners, especially parents looking to ensure all kinds of safety for their children.
Are There Any Alternatives?
There are no products on the market that are pre-installed. Therefore, Rescue Ready is unique in this regard. There are, however, many brands that provide handy fire escape ladders. These brands include Kidde and First Alert.
Final Thoughts
Rescue Ready is an excellent product that sees its potential restricted due to hang ups with companies that serve the residential real estate sector. The company remains in business, and it can potentially explode if it continues aggressively pursuing partnerships with window companies.