In the mountains of Chihuahua, Mexico lives an extraordinary community of indigenous people known as the Tarahumara. These individuals can run 100 miles daily, a mind-blowing feat of endurance.
This community credits their athletic prowess to their traditional diet that heavily features an ancient maize mixture called pinole made of roasted and ground blue and purple maize. Researchers have discovered that this variety of corn has 30% more protein than conventional yellow corn and is packed with nutrients.
Eddie Sandoval wanted to bring this ancient mesoamerican superfood from the mountains of his ancestors to America. He picked up 1000 lbs of organic blue corn from Chihuahua and teamed up with his university business professor Kate Kung-McIntyre and engineer Kyle Offutt to create Pinole Blue.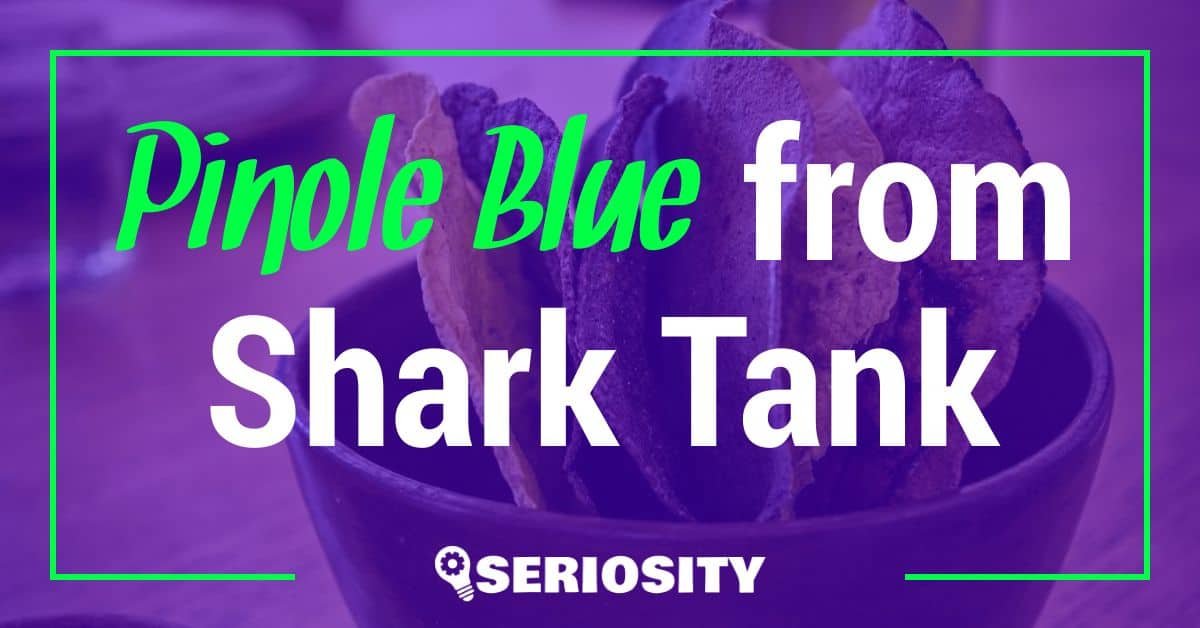 While studying at university, Eddie and Kyle processed and packaged the pinole-based protein blend out of his dorm room and sold it between classes. They entered their product in a venture competition at Wichita State and won the $10,000 grand prize. This cash prize helped the team develop their product line, including tortillas, masa mix, protein balls, and Mexican sugar cookies.
A portion of Pinole Blue's sales profits goes back to the Tarahumara tribe to help them sustain their way of life.
How Did The Shark Tank Pitch Go?
Eddie, Kyle, and Kate came to the Shark Tank asking for $300,000 for 10% of their company, Pinole Blue, valuing it at $3 million. Eddie pitched their products and illustrated their company's roots as samples of the various offerings were handed out to the Sharks, who admitted they were delicious.
Kyle and Eddie informed the Sharks how they are now working full-time after graduating and have lifetime sales of $720,000 and projected sales of $730,000 for this year. Pinole Blue had gross profits of $260,000, with a net profit of $5000. A number that got a sigh of disappointment from the Tank.
Mark wanted to know how the team would educate the public because he didn't understand what pinole was until they explained its history. Kate explained they had developed the stone ground blue tortillas as a gateway to introduce people to their products.
Mark didn't believe it was enough because this market was highly competitive with so many existing tortilla brands. He didn't see a clear path for Pinole Blue, so he was the first Shark out.
Barbara also didn't have confidence in the product and said they didn't have the traction to make money. She was out too. Emma had similar feelings, saying it was too hard to invest in. She was also out.
Lori thought the product tasted great but didn't want to put her money in because it was too early to invest. She was out too.
Kevin believed in the concept, and the numbers showed they had a market. But the issue he saw was that it took too long to get through the story, and as an investor, he couldn't resonate with it. It was too early to invest, and he was out too.
The Sharks tried to say their goodbyes, but Kate wasn't ready to give up. She tried to plead Pinole Blue's case citing their struggles and setbacks. Lori told them that Shark Tank was not the end-all-be-all, and they still had a chance to grow. Kate persisted, but Mark had had enough and snapped at the team, telling them they had to leave.
Eddie, Kyle, and Kate walked out feeling defeated, having not secured a deal. They were disheartened but promised to keep grinding.
Our Review of Pinole Blue
Pinole Blue's original blue corn pinole protein blend is made of pure roasted blue corn without any preservative or color additives. It is organic, non-GMO, and gluten-free. It has a faint corn taste when mixed into water or milk but is unrecognizable in a flavored smoothie. It tends to separate, so it is best to mix the powder in and drink it immediately.
Packed with antioxidants and complex carbohydrates, it is filling and energizing, making it the perfect after-workout recovery drink. Hand ground and packaged in Wichita, Kansas using blue corn sourced directly from Chihuahua, Mexico, this blue corn mix is as authentic as possible.
The blue tortillas are made from the same blue corn mix. It boasts the same health benefits without compromising the authentic tortilla taste.
Blue Pinole's sugar cookies are the healthier version of the Mexican wedding cookie. It has the same familiar taste and sweetness but is made using the blue corn blend.
Pros of Pinole Blue
Plant-based protein powder
Organic
Non-GMO
Gluten-Free
Packed with antioxidants
Cons of Pinole Blue
Faint corn smell and taste can be off-putting
Doesn't dissolve entirely in drinks
Who is Pinole Blue For?
Pinole Blue's protein blend is for anyone looking for an organic plant-based protein source with no preservatives or additives. They are also the perfect option for anyone with dietary restrictions and gluten allergies.
The tortillas are for the same health-conscious individual who wants the authentic Mexican flavor in a cleaner form.
Are There Any Alternatives?
Plenty of plant-based protein powders are on the market, but none use only blue corn as a main ingredient. Pinole Blue is the only company that relies solely on this maize variant for its protein content.
While corn tortillas are a common sight, blue corn tortillas, on the other hand, are more scarce. Some available options on the market include Maria and Ricardo's blue corn soft tortilla wraps that are organic and non-GMO, Guanajuato organic, gluten-free blue corn tortillas, and Ortega blue corn taco shells.
Our Final Thoughts
Pinole Blue is trying to bring an authentic ingredient to mainstream America that research has shown to have all the benefits they pitched. Their blend is the perfect substitute for the over-processed protein powders on the markets. We feel the Sharks were too quick to dismiss this small business that could have grown immensely had one of them decided to make a deal.