Starting a loan signing agent business can be a lucrative and rewarding career path for those looking to work as Notary Signing Agents. These agents play a crucial role in the loan process by assisting borrowers in understanding and signing their loan documents, ensuring the accuracy of the documents, and making sure all parties involved have completed the necessary paperwork. With the proper training, certification, and determination, you can become a successful loan signing agent and grow your business over time.
To begin your journey as a loan signing agent, it's essential to educate yourself about the industry and its requirements. Taking a loan signing training course is the first step towards gaining the knowledge and skills necessary to excel in this profession. These courses can also help prepare you for the mandatory background screening and exams you will need to pass in order to become a certified Notary Signing Agent. Once you have completed your training and achieved certification, it is vital to invest in the necessary supplies, purchase a minimum $25,000 Errors & Omissions insurance policy, and begin marketing your services to potential clients by joining online directories and signing up with signing service companies.
Building a successful loan signing agent business requires dedication, persistence, and continuous learning to stay current with industry standards and regulations. As you gain experience and develop a reputation for professionalism and reliability, your client base will expand, and you will be well on your way to developing a thriving business.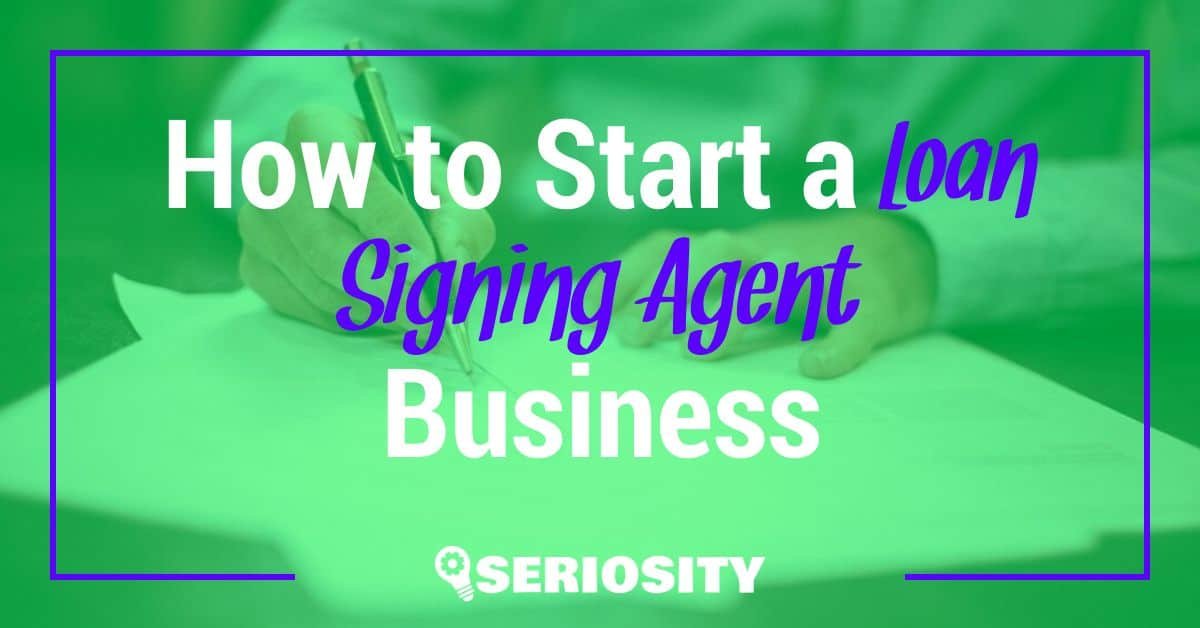 Understanding the Loan Signing Agent Business
Loan Signing Agent vs Notary Public
A loan signing agent is a specialized type of notary public, trained and certified to handle the documentation involved in mortgage loan transactions. While all loan signing agents are notaries, not all notaries are loan signing agents. Becoming a loan signing agent requires additional training and credentials that focus specifically on handling mortgage loan signings.
Industry Overview
The loan signing agent industry is a niche market within the larger real estate and finance sectors. Loan signing agents play a crucial role in facilitating the process of finalizing mortgage transactions. They work closely with lenders, title companies, and escrow agents to ensure that the signing process is executed smoothly and accurately. Some key industry statistics are:
High demand for loan signing agents in regions with active real estate markets.
Generally, a flexible and independent work schedule.
Potential for a steady stream of income with full-time commitment and effective marketing.
Real Estate and Loan Signings
Loan signing agents are directly involved in the real estate industry, specifically handling loan signings for home purchases, refinances, and home equity lines of credit (HELOC). They ensure that the borrower understands the loan documents, obtains their signatures on the required forms, and notarizes these documents. Some responsibilities include:
Reviewing loan documents and ensuring accuracy.
Identifying and explaining key information to borrowers.
Ensuring all signatures, dates, and initials are correctly placed.
Notarizing the documents as required.
In summary, understanding the loan signing agent business involves recognizing the distinction between notary publics and loan signing agents, gaining knowledge of the industry, and becoming familiar with their essential role in real estate transactions.
Getting Started
Requirements and Qualifications
To become a loan signing agent, you need to have a basic understanding of the loan process and various documents borrowers sign. A background in real estate can be helpful but is not necessary.
Notary Commission
Before starting, you must obtain a notary commission from your state. Being a commissioned notary public is essential, as it allows you to officially witness signatures on loan documents. Each state has its requirements for obtaining a notary commission; make sure to research your specific state's guidelines.
Loan Signing Certifications and Courses
To improve your knowledge and expertise, consider enrolling in a loan signing certification program. The National Notary Association (NNA) offers a comprehensive training course and certification for notary signing agents. By completing their program, you can become a certified signing agent and increase your marketability.
Some relevant courses include:
NNA's Loan Signing Agent Certification Course
Other reputable state-specific notary courses
State Laws and Requirements
Since notary and loan signing processes differ from state to state, ensure that you comply with your state's laws and regulations. Research your state's specific requirements and keep up to date with any changes or amendments.
Here is a brief checklist to get started as a loan signing agent:
Obtain your notary commission
Research state laws and requirements
Enroll in relevant loan signing courses and obtain certifications
Acquire Errors and Omissions insurance
Market yourself as a signing agent through registries and directories
Set up a reliable transportation system for mobile notary services
By following the above steps, you can successfully establish your loan signing agent business, offering your valuable services to borrowers and real estate professionals.
Setting Up Your Business
Business License and Registration
Before starting your loan signing agent business, you need to obtain the necessary licenses and registrations. This typically involves:
Registering your business with your state and local government, usually through the Secretary of State's office
Obtaining a notary commission in your state, which may require a background check and completion of a training course
Applying for a business license at the local or county level
Insurance and Notary Bond
It's essential to protect your loan signing agent business from potential risks:
Obtain a notary bond, which serves as a financial guarantee that you will fulfill your notary duties properly. Bond requirements vary by state, so consult your state's regulations.
Consider errors and omissions insurance, which provides coverage for claims of negligence, errors, or omissions in the performance of your notary duties.
Startup Costs
As a notary loan signing agent, you'll need to account for various startup costs, including:
Training courses and certification fees: Depends on the course provider
Notary commission application fees: Varies by state
Business license fees: Varies by location
Notary bond: Approximately $50 – $100, depending on the state
Errors and omissions insurance plan: Approximately $50 – $100 per year
Office Supplies and Equipment
As a loan signing agent, you'll need some essential office supplies and equipment:
Notary seal: Required to authenticate your notarial acts; prices vary based on design
Notary stamp: An alternative or complement to the notary seal, usually rubber stamps costing around $20 – $50
High-quality printer: Necessary for printing loan documents; prices vary based on printer type and quality
Notary journal: Required for keeping a record of notarial acts; typically costs around $15 – $30
General office supplies, such as paper, pens, and folders
By fulfilling these requirements and obtaining the necessary resources, you'll be well on your way to establishing a successful loan signing agent business.
Marketing and Client Acquisition
Building Relationships with Title Companies and Escrow Officers
Establishing strong relationships with title companies and escrow officers is crucial in your notary loan signing agent business. These professionals often assign loan signing appointments directly, providing more lucrative opportunities for your business. To build relationships, attend industry events, and introduce yourself as a reliable and experienced notary signing agent. Maintain consistent communication with them and deliver outstanding service to earn their trust in giving you more appointments.
Signing Services and Online Platforms
Join signing services and online platforms such as SnapDocs.com and SigningOrder.com, which can help you acquire loan signing appointments. These platforms connect experienced notary signing agents with available assignments. Remember to complete your profiles on these websites and provide your background check information to increase your visibility and business opportunities.
Some popular signing agent databases include:
SigningAgent.com
SnapDocs.com
NotaryRotary.com
NotaryCafe.com
SigningOrder.com
Direct Business and Word of Mouth
Besides building relationships with title companies and escrow officers, you can enhance your marketing strategies through direct business and word-of-mouth referrals. Reach out to local real estate agents, mortgage lenders, and attorneys who may need an experienced notary signing agent. Utilize social media platforms to showcase your services and expertise. Additionally, encourage satisfied clients to provide you with testimonials and referrals to their networks, which can significantly expand your loan signing appointments.
In conclusion, acquiring clients for your notary loan signing agent business involves a combination of building relationships with title companies and escrow officers, leveraging signing services and online platforms, and strategically employing direct business and word-of-mouth referrals. Make sure to provide exceptional service and maintain a professional demeanor to create lasting partnerships and secure ongoing appointments.
Managing Appointments and Logistics
Scheduling and Availability
As a loan signing agent, managing your appointments and logistics is crucial for the smooth operation of your business. To begin with, establish a schedule that accommodates your clients' needs and maintains your availability for appointments. Utilize digital tools, such as online calendars and appointment scheduling software, to keep track of your appointments and ensure you can meet the demands of your clients. Remember to:
Set your working hours and stick to them as much as possible
Allow for buffer time in between appointments for unexpected delays or last-minute changes
Update your calendar regularly to avoid double bookings
Location and Reliable Transportation
Since a loan signing agent often needs to travel between different locations for appointments, having reliable transportation is essential. Your car should be well-maintained and dependable, allowing you to arrive at appointments punctually and professionally. Keep these factors in mind:
Regularly service your car to avoid any mechanical issues
Ensure your car is clean and presentable
Plan your route ahead of time to account for traffic and potential delays
Mobile Notary
Being a mobile notary means being able to perform notarial acts on-the-go at various locations. To be successful in this aspect of the loan signing agent business, you should:
Obtain necessary certification as a mobile notary, if required by your jurisdiction
Ensure that you have a mobile notary supplies kit, including your notary seal, journal, and other essential items
Carry a reliable mobile phone for easy communication with clients and other parties involved in the loan signing process
Familiarize yourself with common locations for mobile notary appointments, such as real estate offices, title companies, and clients' homes or workplaces
Providing Exceptional Service
Adhering to State Notary Laws and Guidelines
As a loan signing agent, it's crucial to adhere to your state's notary laws and guidelines. Each state has its own set of requirements to become a notary public, so it's important to research and understand the necessary steps to obtain your notary commission in your area. By diligently following these laws, you ensure the legitimacy and accuracy of the loan closing process.
Being knowledgeable about the mortgage closing process and related documents is essential for providing exceptional service as a loan signing agent. Familiarize yourself with the types of documents involved and make sure that all parties understand their responsibilities. It's also important to stay updated on any changes to state laws or industry standards, as this will help you maintain your expertise in your field.
Professionalism and Customer Service
Excellent customer service is a key component of being a successful loan signing agent. To provide the best possible experience for your clients, be punctual, well-prepared, and courteous throughout the loan closing process. Ensure you have all the necessary supplies and documentation readily available, so the appointment can proceed smoothly without any delays or confusion.
Communicate clearly with all parties involved, as this will help avoid misunderstandings and reduce the chances of errors in the loan documents. If a client has questions or concerns, address them professionally and patiently, as this will enhance their overall experience and leave a lasting impression.
In addition, maintain a professional demeanor in all aspects of your business, including your attire, communication style, and organization. Properly managing your schedule, invoices, and other administrative tasks will showcase your dedication to your work and contribute to your reputation as a reliable loan signing agent.
Expanding and Growing Your Business
Additional Income Streams
Expanding a loan signing agent business may involve exploring additional income streams. Some possible opportunities include:
Becoming a signing agent for various types of loans, such as refinance, purchase, and reverse mortgages
Offering related services, such as document preparation and courier services
Teaching and mentoring new notary signing agents, either independently or through established organizations
Networking with local real estate professionals and attorneys to become their preferred notary partner
Market Saturation and Research
To expand your business, understanding your market is crucial. While researching your local area, consider the following:
Analyze the existing number of notary loan signing agents and evaluate market saturation
Investigate any notary laws, regulations, and certifications that might affect your expansion plans
Explore the high demand areas or underserved regions where there is potential for growth
Evaluate the profit potential and start-up costs for adding new services or hiring independent contractors
| Task | Start-up Costs | Estimated Profit |
| --- | --- | --- |
| Signing Agent Training | $200 – $500 | $80 – $250 |
| Document Preparation | Minimal | Varies |
| Courier Services | Minimal | $25 – $50 |
Having a comprehensive database to track your clients, projects, and expenses can help you make informed decisions when expanding your business.
Scaling Your Business
As your business grows, you may consider transitioning from a single notary loan signing agent operation to a multi-agent business model.
Hire independent contractors to meet the high demand for signing services
Develop processes and systems to manage the database, scheduling, and payments for a larger team
Implement a thorough training and mentoring program for new agents
Monitor and adjust for market saturation, ensuring an optimal balance between agents and demand
By continuously evaluating your market and expanding your services, you can successfully grow your notary loan signing agent business.
Balancing Work-Life for Loan Signing Agents
Maintaining a Schedule
Establishing a consistent schedule is essential for notary signing agents who want to achieve a healthy work-life balance. As a small business owner and your own boss, it's crucial to set specific working hours, allowing time for personal and family commitments. Here are some suggestions to maintain a balanced schedule:
Create a timetable that outlines your working hours, making sure to allocate time for breaks and personal tasks.
Set boundaries between work and personal life by establishing a clear start and end time for your workday.
Prioritize tasks and focus on completing the most important ones within your designated work hours.
Use technology, such as calendar apps and reminders, to help you stick to your schedule and manage your time efficiently.
Working as a Student or with Family Commitments
For students or those with family responsibilities, balancing work as a loan signing agent can be challenging but rewarding. The flexibility of being a notary signing agent allows you to accommodate your schedule according to your needs. Here are some strategies for managing work and other commitments:
Develop a weekly plan that accounts for your study, family, and work hours. This will help you visualize your commitments and find suitable time slots for loan signings.
Communicate your availability to clients and set expectations about the time you can devote to work.
Leverage your network to generate potential business opportunities or to fill in for you when you're unavailable.
The role of a loan signing agent offers financial benefits and can be a valuable source of extra income. With the right balance between professional and personal life, notary signing agents can efficiently manage their responsibilities while maintaining a consistent revenue stream. By following these tips, you can also achieve success as a loan signing agent while attending to your student duties or family commitments.